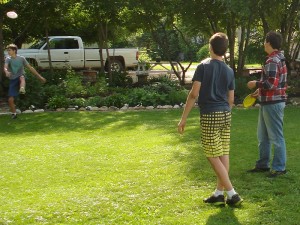 Submitted by:
Jocelyn Beehler
A small committee started with a vision (last fall) to install a disc golf course in Benito. That vision is now a reality. The grand opening for the Shaker City Disc Golf Course was July 20th and the sport has caught attention of Benito residents.
At the grand opening there were multiple contests and demonstrations throughout the day. About 80 people received a free mid-range disc, stamped with the Shaker City name and logo. Sponsors and those that contributed to the creation and installation of the course were thanked.
Shaker City Disc Golf Course started its first league that ran 6 Wednesday evenings through August and the beginning of September. The league night was available for everyone regardless of skill and ability. 55 people participated throughout the season, which included almost equal numbers of men and women and a full range of ages from 9-70 years old. Next year, we may have to start a separate ladies and men's night just to accommodate everyone on the course. Every week it seemed that new people were checking it out, and those who had been playing brought friends and family. The final night concluded with league prizes for the highest points through the season, the best score that night, the most improved that night, and a putting contest winner. The Benito league had a larger disc golf presence than the Winnipeg league this summer. Winnipeg has 5 courses. The turnout and interest have been amazing.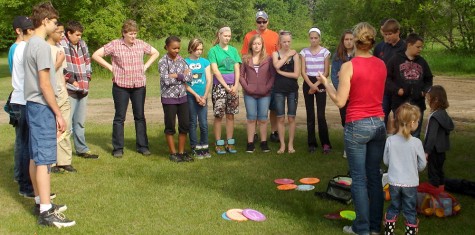 Benito School and Community Bible Fellowship Christian School have purchased a set of discs to incorporate disc golf into their phys-ed programs. Students have picked up on how to play very quickly, and have learned some really great technique.
Shaker City Disc Golf Supply (Scott Beehler) sponsored a "Glow Night." The event was held Sept.20th at 9:00pm. Participants each received a glow in the dark disc and some glow in the dark items like bracelets and/or necklaces. Solar lights lit up the tees and the baskets. 21 people braved the dark, the cold and the dew to try their best at throwing in the dark. Amazingly, no one lost a disc. It was a fun, social evening for those that participated and those that came to watch.
If you feel like you have missed out on this new sport in Benito there is still time to make your mark on the 2013 season. Shaker City Disc Golf Supply is sponsoring a 1-day tournament called the "Turkey Classic" on Oct.12th. Registration/sign in is at 9:00 a.m. with a players meeting at 9:30 a.m. The tournament begins at 10:00 a.m. There will be a break for lunch from 12:00-1:00 p.m. with a concession available that is being hosted by Benito School. Cost is $20 per person with the first 25 registered receiving a free disc. The goal is to try and play 36 holes throughout the day. There are four divisions to make play fair and fun: youth, beginner ladies, beginner men's and a co-ed open class. Registration fees go to the player's pack and prize money for each division. To register or purchase discs contact Shaker City Disc Golf Supply (Scott Beehler) at 204-539-2957.
There are still a few course improvements yet to come. The main sign still has to be put up and there will be signage at the highway indicating the location of the course. We are hoping to install a few benches. The Village of Benito installed a few trash receptacles and recycling bins, which we really appreciate. We may also need to look at planting a few trees in and around holes 5-8, as they are fairly wide open and could use some obstacles to add challenge to the course.
It has been incredible to see the momentum of this new sport catch on in Benito. If you are unsure about trying, it then come by and observe the course. On evenings and weekends there is a bustle of activity with dozens of people playing. It includes those players that are competitive and trying to get ready for the upcoming tournament, new people learning how to play and those that are out with family enjoying a free, local, family activity. Shaker City Disc Golf Supply estimates that there are already close to 350 discs in the hands of Benito residents. In a town with about 400 people, that is significant! So thank you to all the Benito residents and others that have allowed a few us to share a sport we are passionate about. It has been rewarding and exciting, and I can't wait to see what next year brings. See you at the tournament.