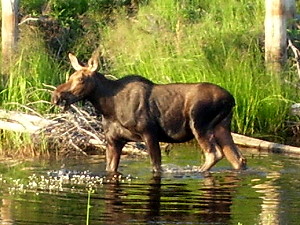 Manitoba Conservation and Water Stewardship reports the following enforcement activities.
Moose Poaching
in Swan River Area
On the evening of Sept. 30, a bull moose was shot in Game Hunting Area 13A south of Birch River, approximately two kilometres east of PTH 10. This area is temporarily closed to moose hunting to ensure sustainable moose populations into the future. A grey Dodge truck was seen in the area around the time of the offence. Anyone with information that would help solve this case can anonymously call the Swan River Manitoba Conservation and Water Stewardship district office at 204-734-3429 or the Turn in Poachers (T.I.P.) line at 1-800-782-0076 (toll-free).
Charges Pending Against Individual for Hunting Moose in Closed Area in Eastern Manitoba
On Sept. 22, an individual was apprehended hunting moose in a closed section of Game Hunting Area 26 in eastern Manitoba. Charges are pending. This area was temporarily closed to moose hunting in January 2012 to ensure sustainable moose populations into the future. The closure applies to all hunters including treaty and Aboriginal rights-based hunters. A moose was seized by officers and the meat was taken to a nearby First Nation community for distribution to elders.
Two Plead Guilty to Hunting, Night-lighting Near Carberry
In August 2011, natural resource officers in the Carberry area observed a truck shining a bright light through an open sunroof onto an adjacent field. The truck had been reported stolen, but an anonymous tipster advised the vehicle belonged to the girlfriend of one of the suspects. The girlfriend later acknowledged the truck had been loaned to her boyfriend.
Further investigation led to charges under the Wildlife Act for hunting at night with lights. In December 2012, one individual pleaded guilty and was fined $1,250. In July 2013, the second individual pleaded guilty and was fined $474 for hunting on private land without permission. In addition, the truck was confiscated.
Hunter Fined $3,180 for Killing Protected Wood Bison Near Grand Rapids
In October 2011, two wood bison were killed south of Grand Rapids. Wood bison are protected under the Wildlife Act. Natural resource officers investigated and charged an individual with two counts of killing a protected wild animal. In July 2013, the individual pleaded guilty to both counts and was fined a total of $3,180.
Illegal Fish Seized in Winnipeg, Charges Laid
In September 2012, natural resource officers obtained a search warrant and seized 78 kilograms of fish fillets, detailed records, $775 in cash and related items from a barber shop on Jefferson Avenue in Winnipeg. A commercial fisher was also apprehended after the alleged unlawful sale of fish fillets. In September 2013, the owner of the barber shop pleaded guilty to several charges. He was fined $2,600 for unlawfully selling fish (contrary to the Fisheries Act) and the $775 was forfeited under the Criminal Property Forfeiture Act.
Monitoring the fish harvest helps set annual quotas to ensure over-fishing does not take place and threaten the future of the fishery, the department said.
It also reminded Manitobans buying fish they must receive a commercial fisherman's trade record or a sales receipt/package label. Without a record or receipt, they could face prosecution for possessing or buying illegally caught fish.