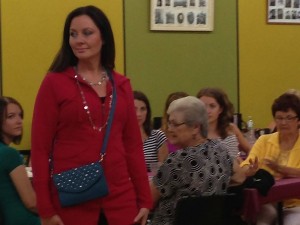 Submitted by:
Valerie Mitchell
Friday August 23, was a Fabulous night in Bowsman for our first ever Fundraiser Fashion Show, with the proceeds going to the Bowsman Lions Cataract Equipment Fund!

Door Prizes were given away, Silent auction items won and even an incredible outfit giveaway!
The night was filled with fabulous women checking out the new fall/winter fashions from Jockey Person to Person, Lia Sophia (Cindy Bobick), Grace Adele (Barb Lewis), and Mary Kay (Ashley Langevin)!
The models were simply amazing! They rocked the night with everything they were wearing.

A special thank you to all of the models, Adrienne Yakielashek, Ally Clarkson, Cathy Haggerty, Carla Rusk, Charity Kalinowsky, Kadra Mitchell, Kathy Woolford, Leona Rausch, Lisa Chan, Margaret Nemez, Marge Williamson, Marla Chernyk, Stephanie Harris, and Tanya Staniland.
The volunteers that helped make the evening spectacular(Lorri Paquin, Kristine Clark, Megan Paquin, Letisha Mitchell, the vendors that came out to support us Holly Stenberg(Tupperware), Scentsy (Holly Kolodichuk, Beachbody (Shayla Nykolaishen), Epicure (Diane Buhler), as well as the Lions Members Sam Forsachuk and Mike Rusk that came and worked the bar. Jamie Wasylciw for the delicious dainties and refreshments.