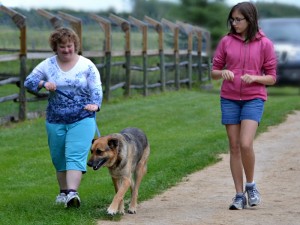 Submitted by:
Sherry Martin
The Swan Valley Animal Protection League held a very successful and busy Open House on Wednesday, August 7, 2013.
Click any picture for a larger version.
Despite the cooler weather, over a hundred people came out to tour the facilities, enjoy coffee and dainties, and meet the cats and dogs.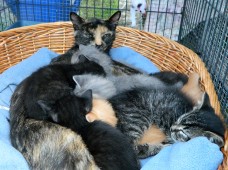 The animals were happy to have the extra attention, and Miss Harmony with her seven kittens held centre court. Little Clay, the newest addition to the SVAPL fleet, was adored by everyone and received loads of cuddles.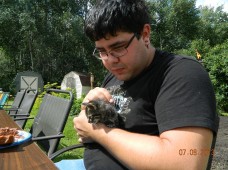 Clay, a 2-3 week old kitten, was found injured on the Whitefish Lake road and brought in by a good Samaritan the day before the Open House. He was successfully integrated into Harmony's family during the Open House, and she has welcomed him into her brood like one of her own. Clay was a very happy little camper!
Lee Kilfoyle, one of the founding members and still a big supporter of SVAPL, came out to say hello.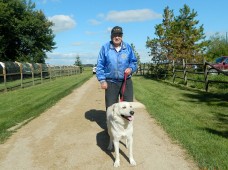 Supporters like John Chorneyko and his faithful companion Benny drove out to visit. Benny, formerly Danny, was adopted from SVAPL by John and they are very happy together.


Our local vets Jim Dyck and Lana Tokar came out to say hello, along with clinic staff Kaitlyn Branconnier and Patty Gattinger. It was great to see them and we couldn't get along without their help.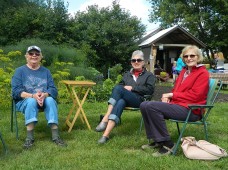 Ethel Ridge, who spent years looking after the lost and found animals phone line also dropped in for coffee.
Heather Thomas, an adopter of two of the Goba shepherds and supporter of SVAPL, brought Jasmine, one of the shepherds, for a visit.
The newest member of the Star and Times, Chad Walls, along with Twyla Machan, were on hand to take pictures and conduct interviews with the SVAPL members. They heard stories about some of the special animals that have been taken in; like Pardner, the little dog who was shot in the head and survived.
He was found by Lynn and Katy-Joe Stehr and brought to the facility.
Some of the kittens and cats were adopted into loving families, and one lucky family was reunited with their cat who had been lost to them for a number of months.
The door prize draw, a beautiful basket of goodies that Susan Huxley made up, was won by Anna Fullerton.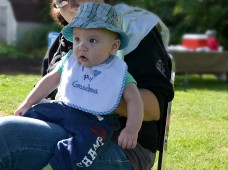 The community support is great to see, and a big thank you to those who left donations and bought tickets.
To all of you who brought baking and other goodies, you helped to make the day a great success!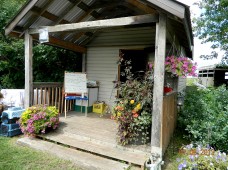 Tickets for SVAPL's annual banquet and fundraiser to be held on September 28th this year were available, as well as 50/50 tickets. You can get both banquet and 50/50 tickets from any member or at select locations in Swan River.

If you would like to reach any member of SVAPL, contact our 24 hour line and leave a message at 204-734-9824. Someone will return your call.