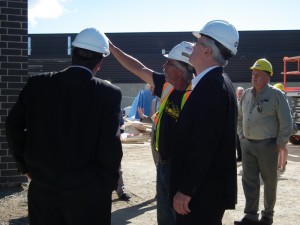 Province of Manitoba Media Release |
Manitoba Government is Building Schools, Creating Opportunities for Student Success With over $6-million Investment: Premier
SWAN RIVER-Premier Greg Selinger toured the new heavy-duty mechanic shop and major upgrades to science labs currently under construction at Swan Valley Regional Secondary School on August 2, 2013.
"Quality educational opportunities close to home are important for families. This new facility will serve students from Swan River and surrounding communities, as well as adults taking programs offered by the University College of the North," said Selinger. "When it is completed, this shop will provide students with real-life, hands-on work experience."
The heavy-duty mechanic program is currently operating out of the school division's bus garage and can only accommodate nine students.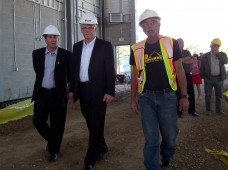 The new 7,150-square-foot shop will have a drive-through bay for large equipment and four bays for working on various equipment and vehicles, in addition to classroom space. The facility will have state-of-the-art tools and ventilation, with an abundance of natural light.
The new shop will allow the program to expand to include more full-time students and introductory courses in grades 9 and 10, the premier said.
Upon completion of the program, students receive their high school diploma and Level One apprenticeship recognition that allows them to go directly into the work force as a heavy-duty mechanic apprentice, then continue with post-secondary education to complete their journeyperson qualifications. Many graduates of the program have found employment in Swan River and the surrounding area.
Construction of the new shop is well underway and is expected to be completed in the fall of 2013.
"Manitoba rural communities have a growing demand for skilled workers. Training in the trades means access to good jobs and with these upgrades more students will get valuable hands-on learning opportunities and get them ready to enter the workforce and continue their training," said Agriculture, Food and Rural Initiatives Minister Ron Kostyshyn. "Our government won't repeat short sighted cuts to education that led to fewer teachers and neglected infrastructure during the 1990s."
The premier noted the government is committed to ensuring every student receives quality education and training opportunities. The province has invested more than $841 million in public schools capital projects over the past 13 years, building 18 new schools, 13 replacement schools, and completing extensive renovations and additions to existing schools.
Pictures courtesy ValleyBiz