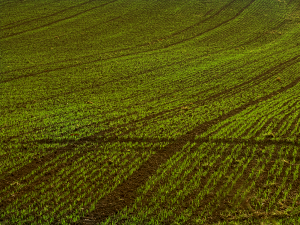 Northwest Region Crop Report Prepared by: Manitoba Agriculture, Food and Rural Initiatives GO Teams & Crops Knowledge Centre
May 27, 2013 |
Northwest Region
Weather conditions remain favourable for seeding to continue rapidly throughout the Northwest Region. Temperatures were below seasonal later in the week with some light frost reported on May 23. Heavy cloud cover with a few scattered thunderstorms on Sunday evening did not result in any significant rainfall. Generally soil moisture remains adequate; however, there are some localized areas where rain would be welcomed.
Seeding progress through Roblin to Swan River areas is most advanced at 80 to 85% complete. In areas east of the escarpment, producers are at 75 to 80% complete. Wheat, peas and soybeans are planted; canola, barley, oats and corn are at 70 to 85% seeded. Crops are emerging with approximately 35 to 40% of the wheat, 30 to 35% barley and oats, and 30 to 40% canola fields emerging.
Field by field assessment of winter wheat indicates wide variation of stands; some producers are considering termination and re-seed options. Fertilizer applications are mostly complete on the best winter wheat fields.
Perennial weeds are growing rapidly and annual weeds are germinating. Preseed weed control is being done as needed on remaining lands to be seeded. Insect trap counts are very low.
Forage and pastures are greening up slowly and remain in fair to poor condition. Warmer temperatures are needed for adequate growth. More livestock were moved to pasture. Dugout water levels remain adequate.