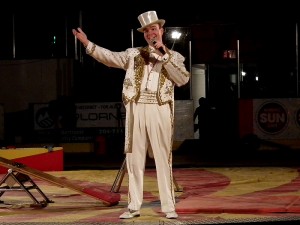 ValleyBiz Story |
Ladies & gentlemen, boys and girls, children of all ages … the Swan Valley Stampeders proudly presents the Khartum Shrine Circus.
The circus came town on Thursday, May 16, 2013 for two shows at the Swan River Centennial Arena.
Click any picture for a larger version.
The magic of the circus transformed the kids into ferocious beasts and mystical beings (with a little help from a speedy face painter).
For the brave, there was an exotic photo opportunity – up close and personal with a python.
Some opted for a slightly more domestic experience.
In true circus form, the entertainers balanced, bent, bounced and even barked as comedic clowns and daring acrobats entered the ring.