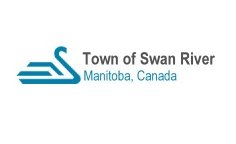 The Council of the Town of Swan River met on Thursday, May 9th, 2013 at 7:30 p.m. in the Town Council Chambers with Mayor McKenzie presiding and Councillors Bobick, Jacobson, Friesen, Whyte and Delaurier present. Councillor Sakal was absent.
Conditional Use Hearing:
Conditional Use Hearing was called to order by Mayor McKenzie who advised that the purpose of the hearing was to hear representation for or against the following application:
To allow the application by Sapotaweyak Cree Nation to establish a VLT Sports Lounge at 108-6th Avenue South being Lot 13 Special Plan 3211 in a Central Commercial Zone in the Town of Swan River.
Chief Nelson Genaille, Calvin Campeau and Renold Cook were present to answer questions that Town Council had regarding the application.
When all questions had been answered and thus being no other persons present who wished to speak on the matter the hearing was adjourned.
Minutes
1. RESOLVED that the Amended Agenda for the May 9th, 2013 regular meeting of Council be received.
Carried:
2. RESOLVED that the minutes of the April 16th, 2013 regular meeting of Council be adopted as received.
Carried:
3. RESOLVED that Council authorize a grant of $8,000.00 to the Swan Valley Chamber of Commerce.
Carried:
4. RESOLVED that Lance Jacobson, Jason Sakal and Phylis Friesen be authorized to attend the Association of Manitoba Municipalities Parkland District meeting being held in Roblin, MB on Friday, June 14th, 2013.
Carried:
5. RESOLVED that a Powerliner 2850 be purchased from Cloverdale Paints in Winnipeg, MB for the amount of $4,099.00 plus taxes and shipping.
Carried:
6. RESOLVED that the proposed subdivision of Lot 5 Block 1 Plan 2315 DLTO and numbered by Manitoba Local Government Community Planning Services File No. 4-455-13-7063 be hereby approved subject to the following condition:
1) That Variation Orders be issued reducing the site width from 100 feet to 54.8 feet for unit 1 and 55.2 feet for unit 2.
Carried:
7. WHEREAS the residents of the Town of Swan River should be able to choose which organizations they wish to donate their money to;
AND WHEREAS the Council of the Town of Swan River feels it is inappropriate for Council to decide which organizations are to receive donations;
THEREFORE BE IT RESOLVED that effective immediately, the Council of the Town of Swan River will no longer be allocating funds for donations to organizations.
Glen McKenzie yes
Don Bobick yes
Phylis Friesen no
Jason Delaurier yes
Lance Jacobson yes
Jason Sakal absent
Duane Whyte no
Carried:
8. RESOLVED that By-law No. 3/2013 being a By-law of the Town of Swan River to Regulate the Establishment and Maintenance of Tattoo Studios be read a first time.
Carried:
9. RESOLVED that Council authorize a grant in the amount of $4,000.00 to the Swan Valley Historical Museum.
Carried:
10. RESOLVED that the 2013 Budget for the Veterans Community Hall be approved.
Carried:
11. RESOLVED that David Madill be authorized to work 40 hours per week in the absence of the By-law Enforcement Officer/Handi Van Operator due to medical leave and be paid accordingly.
Carried:
12. RESOLVED that the 2013 Budget for the Swan River Parks & Recreation Commission as amended be approved.
Carried:
13. RESOLVED that the 2013 Parks Budget for the Swan River Parks & Recreation Commission as amended be approved.
Carried:
14. WHEREAS the R.M. of Swan River has extended an invitation to the Town of Swan River to discuss the potential amalgamation of the Town of Swan River and the R.M. of Swan River;
THREFORE BE IT RESOLVED that the Town of Swan River accept this invitation to discuss a potential amalgamation.
Carried:
15. RESOLVED that the accounts as follows be hereby approved for payment:
(1) General Accounts from Cheque No. 13027 to No. 13124 for a total of $908,822.59.
(2) Payroll Account from Cheque No. 3059 to No. 3069 for a total of $ 148,215.46.
Carried:
16. RESOLVED that Dan Sullivan be hired for the Seasonal Labourer position with employment to commence on May 8th, 2013.
Carried:
17. RESOLVED that By-law No. 2/2013 being a By-law of the Town of Swan River to set rates for taxation for the year 2013 be read a first time.
Carried:
18. RESOLVED that the Town of Swan River submit a Regional Recreation Feasibility Study grant application to Manitoba Children and Youth Opportunities, Recreation and Regional Services;
AND BE IT FURTHER RESOLVED that the Town of Swan River Council authorize payment of its share of the project costs.
Carried:
19. RESOLVED that the Handi Van Report for April 2013 be received.
Carried:
20. RESOLVED that Ken Kirkpatrick be authorized to attend the Flagpersons training course held in Dauphin, MB on May 8th, 2013.
Carried:
21. RESOLVED that the traffic paint be purchased from Tru Hardware for the amount of $7,798.80 plus taxes.
Carried:
22. RESOLVED that the Superintendent of Works and Building Inspection Reports be received.
Carried:
23. RESOLVED that the following Building Permit Applications be received:
5/13 217 7th Ave N Demolish Attached Garage
6/13 C11-1545 Main St Install Mobile Home
7/13 B12-1545 Main St Install Mobile Home
8/13 520 3rd Ave S Chemical Shed
9/13 336 7th Ave S Weeping Tile
10/13 217 7th Ave N Canopy
11/13 204 8th Ave S Repair Carport
12/13 1541 Main St Fire Pit
13/13 403 Laverendrye Bay Shed
Carried:
24. RESOLVED that the April, 2013 R.C.M.P. Report be received.
Carried:
25. RESOLVED that the Swan Valley District Recreation Commission Audited Financial Statements for the year ended December 31st, 2012 and prepared by Pacak Kowal Hardie & Company be received.
Carried:
26. RESOLVED that the following utility account be added to taxes:
Account Address Roll #
11770000.07 225 1st Ave S 0083500.000
Carried:
27. RESOLVED that, pursuant to Section 152(3) of The Municipal Act, Council go into and close the meeting to the public.
Carried:
28. RESOLVED that pursuant to Section 152(4) of The Municipal Act this meeting be reopened to the public.
Carried:
29. RESOLVED that this regular Meeting of Council now adjourn.
Carried: