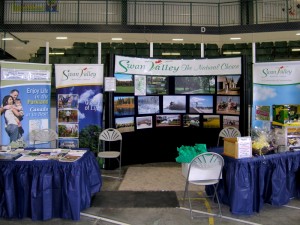 Submitted by:
Wayne Grier
President,
Swan Valley Chamber of Commerce
The Thompson Trade Show was a Huge Success again for the Volunteer Contingent that made the journey.

Click picture for larger version.
From memory, on the trip to Thompson, we counted and listed 110 ex-Thompsonites that now live in the Valley, I expect it really would exceed 160. If you are formally from Thompson (or know someone that is) and want to be added to the Valley Directory that we are going to create, let us know.
It is amazing how many people from this area don't know anything about the Swan Valley, as their travel route normally takes them straight down #6 highway to Winnipeg. Of the 4,000 to 6,000 people that go through the Trade Show, we speak to at least 200 that are serious about retirement in our kind of Neighborhood. Thanks go out to our Valley Ambassadors, Rick Achter, Linda Goudy, Molly Gornik, Sarah Campbell, Ken Hanke and Wayne Grier (all former Thompson residents), that made the commitment to go this year!
Also, Thanks to all the Businesses and Municipalities that contribute funds for the trip or prizes for our draws! This combined effort through the Swan Valley Chamber of Commerce gives us a presence in an area that would be impossible to do individually!