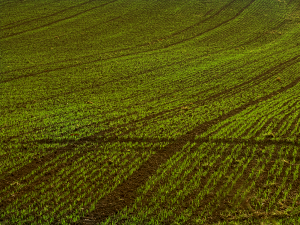 Northwest Region Crop Report Prepared by: Manitoba Agriculture, Food and Rural Initiatives GO Teams & Crops Knowledge Centre
May 13, 2013 |
Northwest Region
Mostly favorable weather conditions prevailed across the Northwest Region. Drying winds and warmer daytime temperatures, along with several nights with freezing temperatures, are improving field drying conditions. Soil temperatures and field conditions are better through Roblin and Swan River areas than the Dauphin/Ethelbert areas. The Pas has normal field conditions at this date. In the areas east of the Escarpment, which had recent heavy snowfall, the extent of water ponding in fields is subsiding. Some snow remains in tree cover near field borders.
Some spring wheat was seeded around Roblin. Elsewhere in the region, there has been very limited field work; some anhydrous ammonia applications began on the lighter, better drained soil types. Annual crop land moisture is rated surplus to adequate.
Winter wheat survival ranges from excellent to fair. Growth continues but fields are variable in staging, reflecting ranges of establishment into drier field moisture conditions last fall.
Freezing night temperatures have also delayed pasture and forage development. Dugout water levels are generally at 100%.