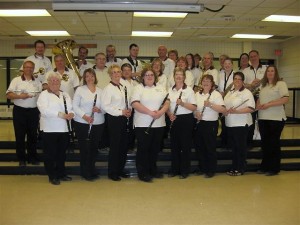 Submitted by: Jayne G. Leadbeater (Minish)
Secretary/Public Relations
Swan Valley Community Band
Swan Valley Community Band has been in operation since the Fall of 1994, 19 years, with Julie Kooistra, our Founder and our Director.
Click any picture for a larger version.
People have come & gone over the years, but the group seems to maintain a steady 30-34 membership. That membership is fairly inexpensive, and it incorporates a number of musical groups within our organization. We all love music, and we have a great time to boot!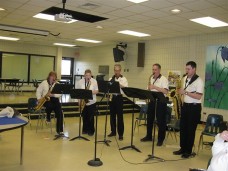 There has been a Jazz group, "From the Top", which is in hiatus for lack of a percussionist, pianist & trumpeter. The void has been aptly filled with "The Tarnished Brass" quintet, which has played for the last 9 or 10 years, and is currently led by David Gnida. And, the "Take Five Sax" quintet started this year making a great addition to our varied repertoire.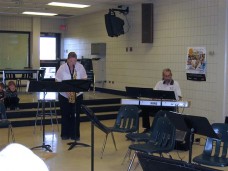 Rounding out our features are a few musicians who perform as soloist. This year we had Laura May on Tenor Sax & Gord Lincoln on Trumpet. The "Tarnished Brass" featured a Trombone solo by Jayne Leadbeater exposing the audience to the "Trombone Smear".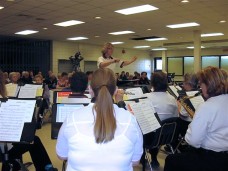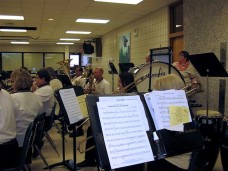 As always we have our resident Directors, Rev. Herb Radke & Martyn Snell, who do their part which allows Julie to participate as a musician as well as a Director. We have a few other Directors, of which some are current School Band Directors, Dave McGarry, Brenna Smith, & Glenda Turton. Some of our membership, David Gnida & Gord Lincoln, have tried it as well. What ever the challenge we are ready for it!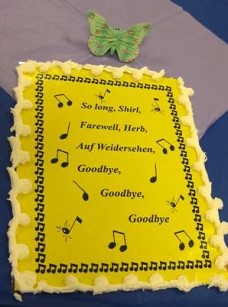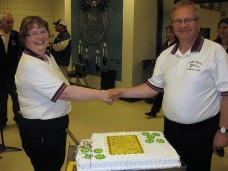 Unfortunately, we are losing two of our long time members. Shirl Christian, who is a charter member, is moving where here grandchildren are. The same for Rev. Herb Radke who is also retiring. We will miss them.
Our next gig, is the Canada Day celebrations that are being held in the Legion Park. We will be at the Outdoor Stage. Then, we will start all over again in late September, 2013.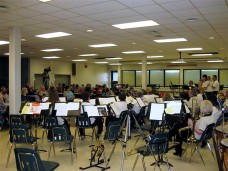 This coming year, 2013-2014 will be our 20th year, and we always love to have new people join us.
It's NEVER TOO LATE to pull out that instrument you used to play!
Everyone is welcome, so surprise us & join.