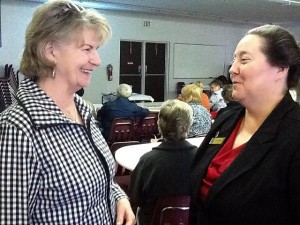 Submitted by:
Beverley Leach |
Resource Coordinator for Services to Seniors Kay Markle visits with Carol Tripp, Financial Planner RBC prior to her presentation on May 9, 2013 at St. James Anglican Church.

Click any picture for a larger version.
"Understanding the Role of an Executor" included such topics as Estate Terminology, Executor Duties and how the RBC Can Help.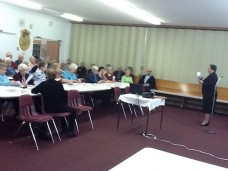 The forty participants were very attentive as Carol outlined the many duties and responsibilities of an executor. She discussed the probate of a will and the availability of an Agent for Executor Service to help executors deal with problems they might encounter.

Power of Attorney was addressed as Carol explained the difference between Enduring Power of Attorney and Conditional Power of Attorney. Audience participation was excellent with many questions relating to the subjects answered by Carol.
Carol Tripp and Mary Campbell read and discuss the book "Exit, The Life and Death Planner" by Laura Fines and Glenda Leznoss. Doreen Stich was taking orders for the book which would help anyone to organize information relative to the topics that had been discussed.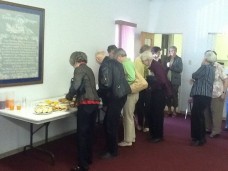 Discussion continued while everyone enjoyed coffee following the very successful event.