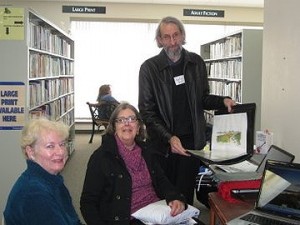 Submitted by:
Maureen Bowles |
On March 21, 22, and 23rd the North West Regional Library hosted a very successful "Human Library Event".


This is an initiative in which people called, "Readers" who want to learn about a specific topic "check out" people called "Human Books" for a half hour of conversation in the library.
The volunteer books were:
Meredith Salama: Spinning
Doug Hinchliffe: Royal Canadian Navy
Gordon Lincoln: Trumphets Anyone
Addy Oberlin: Child in Wartime Holland
Martyn Snell: A Life of Music
Murray Parsons: Burrows Lumber Mill
Rosann Wowchuk: Women in Politics
Wayne Pariesien: Peacekeeper-Cypress and Egypt
Dale Wiebach: Cancer Survivor
Fred Sigurdson: Evolution of a Town
Gordon Hornbeck: Nahanni River Solo Canoe trip
The stories were interesting and informative and the community support throughout the 3 days was amazing. Many citizens and three school classes enjoyed visiting with these "Books".
Real stories, involving real people living in our Valley.
Lets celebrate OUR HISTORY, OUR ACHIEVEMENTS, OUR ADVENTURES.
Get to know your neighbours!!