The community of Bellsite has once again hosted a great snowmobile derby, as you can see from the results below.

Pictures courtesy Keith Lamb & Brian Dawson – click for a larger version.
The weather was as good as you could ever wish for, warm and comfortable to stop and visit at the pit stops, and the sun was out to make it that much more cheerier!
There were approximately 200 sleds the traveled the route, and had our first pit stop at Steeprock Lake for smokies on a bun with some of the best cookies ever, all provided by Spruce Products and Prairie Forest Products.
Thanks, they were great!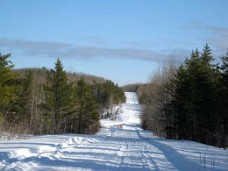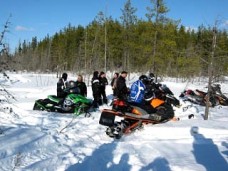 After proceeding around the rest of the trail and back to the hall, supper was waiting, mashed potatoes and beef, lots of salads, pie and ice cream for dessert, plus all the extras, and home-made buns!
Needless to say we went home with rosy cheeks and a full belly after the derby, all was well.
Prize Payout
216 driver hands sold
369 Ghostriders
Total amount of prize payout $ 2,542.50
1st Prize: 20% of total – Best Hand 4 jacks
Driver: Larry Unger – Prize $1,017.00
2nd Prize: 15% of total – Best Hand 4-9's
Driver: Kolan McKay – Prize $ 762.75
3rd Prize: 5% of total – Best Hand 4-8's
Driver: Mel Brelinski – Prize $ 254.25
Most Ghost Riders: 10% of total – 60 Ghostriders
Name: Brian Dawson – Prize $ 508.50
So if you missed this one you had better keep track for the next one. It is always the last Sunday in February, so mark it on your "to do" list for next year.
Thanks to all the volunteers and sponsors that help make these events happed and help sustain the small communities. It was a grand time, hope to see you there next year.