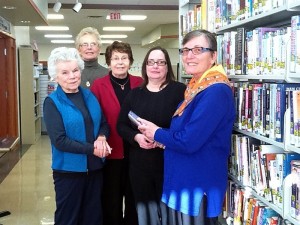 Submitted by:
Beverley Leach |
Members of Friends for Grandmothers of Africa presented two copies of the novel Chanda's Secrets by Allan Stratton to the library on January 31, 2012.

Click any picture for a larger version.
In Chanda's Secrets, Allan Stratton vividly brings to life the harsh realities a teenaged girl exoeriences from poverty and HIV/AIDS in a sub-Saharan African community. It is a story that captures intense loyalty the pain of loss, and the great courage required to live with the truth. Above all, it provides the reader with an insight into the appalling treatment of AIDS.
The Swan River "Friends of Grandmothers of Africa" would like to thank all those who have supported us in our efforts to have Parliament pass Bill C-398, a private members bill intended to make it easier to send generic medicine to developing countries. We were saddened when, on November 28, 2012, a sufficient number of Conservatives, including our local MP Robert Sopuk, voted against Bill C-398, causing its defeat.