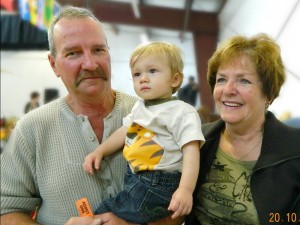 Submitted by:
Sherry Martin and
Micheline Carstairs
The SVAPL 25th Anniversary banquet and fundraiser was held on October 20, 2012 at the Museum Hall.
The sold out event exceeded our wildest expectations.
Click any picture for a larger version.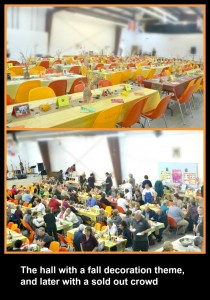 Everything from the wine, bottled and labeled with our own beautiful anniversary labels, to the unique table settings and centerpieces, was carefully thought out and planned down to the last detail.

With Black-eyed Suzie entertaining the crowd of over 200 people during the cocktail hour and again after supper, and Verneece Eggie's wonderful meal and several mouth watering dessert options, it was an evening to remember.

Micheline (Mitch) Carstairs, the PR person for the group and the MC for the evening, kept everything running smoothly.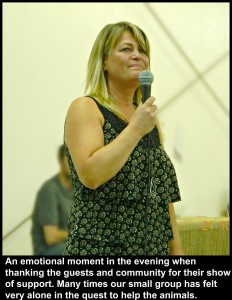 She spoke of SVAPL's vision for the future and how gratifying it was to see such a turnout and how the support shown that evening touched her deeply. She commented how it makes one feel that all the hard work is worth it. She also talked about how far SVAPL has come in 25 years, and how much the group hopes to accomplish in the future with the help of the community. She would like to see the G7, the R.M.'s, dog catcher's, vet clinic, and people in the community along with SVAPL all working towards common goals and supporting each other.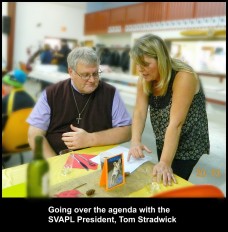 The president of the group,
Tom Stradwick, gave the blessing for the meal.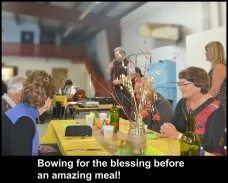 Sherry Martin presented a short slide show depicting cats and dogs (and even bunnies) some of whom are still available for adoption. There were also pictures of some of the events held to celebrate the SVAPL 25th year, as well as some pictures of the facilities.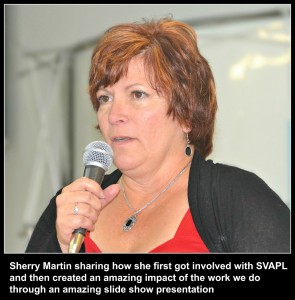 She also spoke of how she became involved with the group through working with the 25 German shepherds that came to SVAPL, and how the last shepherd was placed just last month. She talked about the emotional involvement with these dogs, particularly from one of the foster people who had taken in 3 of them. She also spoke of working with April Maxwell and Mitch Carstairs, spending time with those 3 shepherds, particularly Cleo.
Cleo now lives in a great home with her own private lake.
Maggie Romak, foster co-chair, talked about how the group struggles to keep up with the facilities and influx of animals when we are so few volunteers, and how she hopes this will raise awareness. Some of the group members approach burn-out and she doesn't want to see this group fold for lack of help, as has happened in other towns.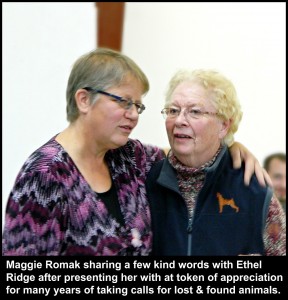 Maggie also made a presentation to Ethel Ridge who was the main contact for the Lost and Found animals and for many years she took phone calls night and day, recording information of lost and found pets. She thanked Ethel for her years of dedicated service to the animals. SVAPL now has a central phone line in place and this should help direct calls to the right people within the organization.
Audrey Sercombe, foster co-chair, spoke of how SVAPL does more than just take in and place strays or unwanted animals. She talked of a woman with melanoma who approached our group to take in her dogs and help find homes for them as she would be unable to care for them while she was receiving the treatments required for her illness. Audrey felt this was just wrong and with the group's support, SVAPL kept the dogs for this woman until she was well enough to take them again. This lady was so grateful to the group that she not only sent money to the group to look after her dogs but she also sent enough to help out others.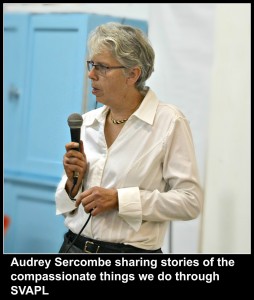 She told of Winter's story where 2 EMT's on the way back from Winnipeg found a cat frozen down to the road. They stopped and chipped away at her paws with their debit cards to try to free her, finally using warm water to get her loose. They brought her to SVAPL, half frozen, feet bloodied, terrified of everything. A kind foster parent took Winter in and worked with her every day to relieve her fears.

Then Audrey talked about Zoey, a very special dog. Zoey was rescued from a fire and taken in overnight by a kind neighbor. This aging Rottweiler cross had spent most of her life tied to a chain. She was relinquished to SVAPL in December of 2011 and the group wanted to give her one last bang-up Christmas since the vet felt she didn't have long to live. The plea went out for funds to help Zoey, and generous people gave her a heated dog bed, toys, food, glucosamine for her arthritis and money for vet care. Zoey is going to see another Christmas and is still going strong.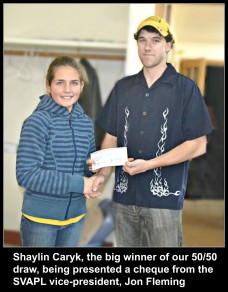 Throughout the evening, there were several draws for the Chinese auction. The silent auction was a great success, with large items generously donated for the event.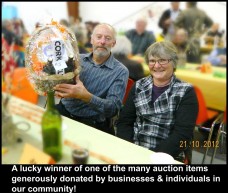 The final big draw of the evening was for the 50/50. The pot was over $1200 and was won by Shaylin Caryk.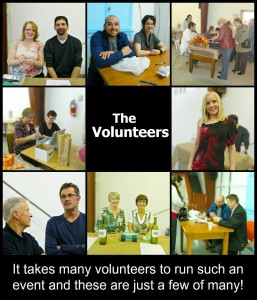 Several positive comments were heard from individuals throughout the evening about the group and the great work they do. The Parkland Humane Society from Dauphin was also in attendance, showing their support for SVAPL. This fundraiser and 25th year Anniversary has raised the community awareness of SVAPL and the importance of volunteers in an organization such as this.

SVAPL would like to thank the community, individuals and businesses who so generously donated auction items, money, and time. Without the volunteers and donations, this event would not have been possible.
Special thanks to black-eyed Suzie for entertaining us with their wonderful musical talent, to Verneece Eggie for the fantastic food, to the bartenders Wayne Markle and Kevin Basso, and to all the volunteers who helped out during the evening. Your generosity warms our hearts. The animals thank you.