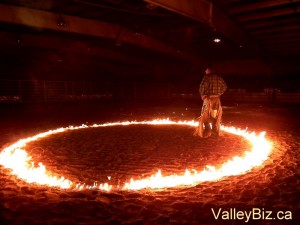 Submitted by:
Lion Corey Hurren

The Bowsman and District Lions Club held their 9th annual Bull-A-Rama at the Bowsman Arena on Friday, October 12. 2012.


Click any picture for a larger view.
The action packed event was another success to help support the three Swan Valley Lions Clubs purchase of the Swan Valley Cataract Equipment.
This is the second year for Bull-A-Rama as a Rough Stock Rodeo event. In the previous years it was a bull riding event only, but now includes horses as well with the saddlebronc and bareback riding and was the first event of the Canadian Cowboys Association season.
Starting this year, the 2012 Bowsman Bull-A-Rama Rough Stock Rodeo was the last rodeo of the Canadian Cowboys Association season before the CCA Finals Rodeo held at the Canadian Western Agribition in Regina, SK from November 20 – 24, 2012.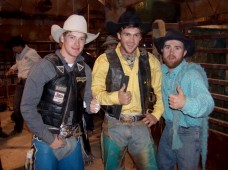 This year's Bull-A-Rama was also unique because we had cowboys from Australia who were riding in the events.
One of those was exhibition rider Jack Bredhaur from the state of Queensland. He is the CCA's Imminent 2012 Novice Champion.

ValleyBiz.ca Pictures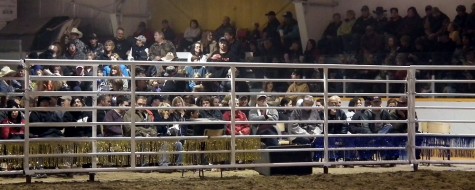 UN-Official Rodeo Results FOR BOWSMAN, MB
SADDLE BRONC
RHETT FITZPATRICK PS767 BEYOND 75 $573.62
JAKE BROWN ECKVILLE PS317 JOHNNY CASH 73 $474.72
WYATT THURSTON PS306 SNEAKY FEELING 70 $375.82
Ground Money 184.61
BAREBACK
COLTER HARDEN P334 UP IN SMOKE 81 $546.94
JONATHAN KMITA P500 WELCOME EDITION 79 $452.64
CLAYTON BUNNEY P330 WINGATE 76 $358.34
MICHAEL TUCK P891 HAZEL 74 $216.89
ANTHONY THOMAS P824 CHICK FLICK 74 $216.89
TYVAN STENBERG P214 RED CLOUD 62 $94.30
BULL RIDING
DAVID VANTIENHOVEN PT800 BAZINGA 78 $719.24
LANE LAPLANTE PT77 DESPICABLE ME 78 $719.21
JC CURLEY PT60 MONKEY BIZ 78 $515.66
Ground Money $253.30