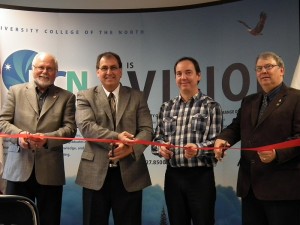 UCN Media Release |
October 10, 2012
University College of the North (UCN) President and Vice Chancellor Konrad Jonasson officially opened the new regional centre located in Swan River, Manitoba, adjacent to Swan Valley Secondary School.
ValleyBiz Photo / Click for a larger version
Cutting the Ribbon from left to right are:
Robert Sopuck, Member of Parliament for Dauphin—Swan River—Marquette
Konrad Jonasson, UCN President and Vice Chancellor
Ken Munro on behalf of Ron Kostyshyn, MLA for Swan River
Glen McKenzie, Town of Swan River Mayor
"This investment created jobs for people in Swan River at a critical time, while improving the infrastructure that University College of the North will need to maintain its reputation as an innovative leader," said MP Sopuck. "Our government's support for the knowledge economy has not only made a difference in the short term but also set the foundation for future prosperity."
Advanced Education Minister Erin Selby, who toured University College of the North two weeks ago, congratulates UCN on the grand opening, saying "This new centre is a great step forward in the growth of Swan River. The skills learned by students here will have a valuable impact on the
community and the region as a whole."
"We are very proud to be celebrating the grand opening of this centre," said President Jonasson. "This new space, along with our existing health program facility, creates a strong presence for our institution and will ensure that we are meeting the needs of students in this region of our catchment area. The proximity of our centre to the Swan Valley Secondary School is ideal and will encourage those students to embark upon a post-secondary career with UCN."
Mr. Jonasson noted that while this new facility is the southern-most regional centre within UCN, it is no less important than its more northern counterparts.
Swan River Mayor Glen McKenzie recognized the need for an expanded access to postsecondary education in his community. He said, "The Swan Valley is indeed fortunate to have this new facility opening here. Valley students will have access to the wide array of UCN programs as they move forward with their post-secondary education".