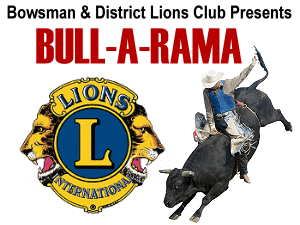 Submitted by:
The Bowsman and District Lions Club invite you to the 9th annual Bull-A-Rama.
Friday, October 12th
7:00 pm
Bowsman Arena
Help support the Lions purchase of the Swan Valley Cataract Equipment.
Come for an action packed night of Rough Stock Rodeo events!
This is the second year for Bull-A-Rama as a Rough Stock Rodeo event. In the previous years it was a bull riding event only, but now includes horses as well with the saddlebronc and bareback riding and was the first event of the Canadian Cowboys Association season.
Starting this year, the 2012 Bowsman Bull-A-Rama Rough Stock Rodeo has become the last rodeo of the Canadian Cowboys Association season before the Finals Rodeo held at the Canadian Western Agribition in Regina, SK.
There are 7 bareback, 9 saddlebronc, and 16 bull riders for a total of 32 riders hoping to make it into the Finals. There will be a dance at the Bowsman Curling Rink following the event.
Tickets are $12 each and are available at Cook and Cooke or from any Bowsman Lions Club member.