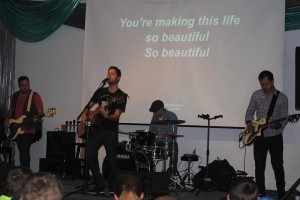 Submitted by:
Darlene Hardy
On Wednesday, October 3rd Living Word Bible College was pleased to host Christian recording artist, Dan Bremnes and Band in concert.

Click any picture for a larger version.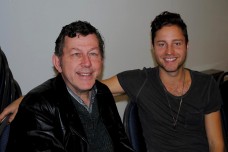 This was the third time that Dan was able to perform in the Swan River area. Dan has some special connections here, being the nephew of Magnar & Bonnie Bremnes, who serve on staff with Living Word Ministries.
The concert began at 7:00 pm and was well attended by young and old from Swan River and surrounding communities.
Approximately 170 people filled the main auditorium for the two hour concert. While the music was lively and upbeat, the message was sincere and heartfelt.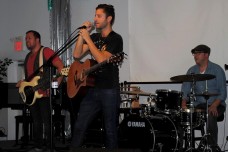 Dan played acoustic guitar and was accompanied by his band; Juan on the electric guitar, Trevor on bass guitar, and Justin on drums.
Dan's number one desire is to serve God as he leads others in worship.
Bio of Dan Bremnes
Dan's passion for worship and music started at age 12 when he learned how to play the drums. After backing up artists ʻHeather Clark' and ʻGreg Sczebel,' an interest for writing and recording music developed.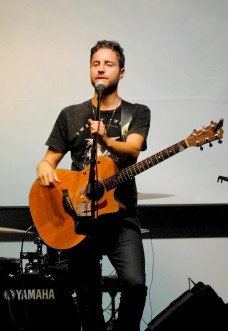 In 2010, Dan released his first full-length album ʻYour Strength' which received SIX ʻCovenant' (CGMA) Nominations including ʻMale Vocalist Of The Year.'
His poetic and attention-grasping style of music has also gained radio play across Canada, managing to chart three times on the 'CCRC' (Top 30 Canadian Christian Radio Countdown).
One of his tracks ʻYou Are' received an award from the ʻInternational Songwriting Competition' as well as a finalist position in the ʻJohn Lennon Songwriting Competition'.
Dan continues to push his own musical boundaries and inspires audiences who hear him.
Dan is spokesman for Compassion Canada and during the evening shared his passion to help needy children around the world through this ministry.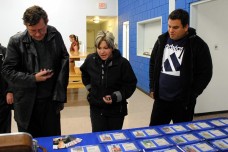 Following the concert, everyone was given the opportunity to become a sponsor of a child through Compassion if they desired to participate.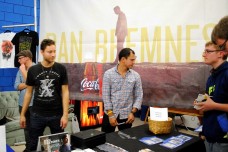 Dan's CD's and t-shirts were also available for purchase during a meet & greet time with Dan and his band.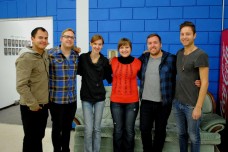 The band was able to spend time the following morning with the students and staff of LWBC, leading praise and worship during chapel.
Thanks to everyone who came out to hear Dan & the Band!