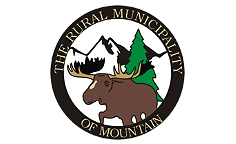 MINUTES OF THE REGULAR COUNCIL MEETING OF THE RURAL MUNICIPALITY OF MOUNTAIN HELD WEDNESDAY, SEPTEMBER 12, 2012 IN THE R.M. OF MOUNTAIN COUNCIL CHAMBERS IN BIRCH RIVER, MANITOBA.

Members Present:
Reeve: Robert Hanson
Councillors: Debbie Soloway, Nelson Rusk, Stephen Nadolney, Wayne Stockford, Bert Fedoriw
Councillor Guignion was absent with notice.
Councillor Soloway left the meeting at 12:45 pm.
Councillor Stockford left the meeting at 2:15 pm.
CAO Robin Wiebe was present and acted as secretary.
1. Call to Order
The meeting was called to order at 10:00 A.M. by Reeve Robert Hanson, quorum being present.
2. Agenda/Minutes
2.1 Adoption of Agenda
BE IT RESOLVED THAT the Agenda for the September 12th, 2012 Regular Meeting of Council be adopted as amended.
CARRIED.
For 6 Against 0
2.2 Adoption of Minutes
BE IT RESOLVED THAT the Minutes of the Regular Meeting held August 22nd, 2012 be adopted as presented, all requirements having been complied with.
CARRIED.
For 6 Against 0
3. Matters Arising from Minutes – RCMP Swan River Detachment sends their regrets for missing last meeting.
4. By-Laws & Policies
4.1 Contractor Insurance Requirements: Opinion from Insurer
4.2 Recreation Commission Draft By-Law: Introduction, request feedback
4.3 Road Maintenance Agreement: Review
5. Financial
5.1 Accounts Payable
BE IT RESOLVED THAT Cheque Nos. 20120987 to 20121056 be approved for payment in the amount of $269,341.37, including $4,412.18 for Councillor Indemnities, as authorized by By-Law 10/11.
CARRIED.
For 6 Against 0
5.2 Taxes Added & Cancelled: Update
5.3 PUB Mafeking Utility Deficit Recovery: Requested to Vary Order
5.4 PUB Birch River Utility Request to Vary Order: Approved
5.5 By-Law 01/12 Flat Rate Water Fee LUD Birch River Third Reading
BE IT RESOLVED THAT By-Law #01-12, being a By-Law to establish a flat rate water fee in the LUD of Birch River, be given third and final reading; passed, signed and sealed.
Hanson -For
Soloway -For
Nadolney -For
Guignion
Rusk -For
Stockford -For
Fedoriw -For
CARRIED.
5.6 By-Law 04/12 Flat Rate Water Fee LUD Mafeking First Reading
BE IT RESOLVED THAT By-Law #04-12, being a by-law to establish flat rate water fees in the LUD of Mafeking, be introduced and given first reading.
CARRIED.
For 6 Against 0
5.7 Financial Statement August 2012
BE IT RESOLVED THAT the Financial Statement for the month ending August 31, 2012, be accepted as presented.
CARRIED.
For 6 Against 0
6. Ward Reports & Work Orders
BE IT RESOLVED THAT the Rural Municipality of Mountain approve work orders #54/12 to 55/12.
CARRIED.
For 4 Against 0
7. Delegations/Petitions
7.1 10:30 am Sgt. McCarville, RCMP Winnipegosis Detachment: Introduction
7.2 1:30 pm Breach of By-Law No. 02/06 Hearing – Gabrielle
WHEREAS Notice of Breach of By-Law No. 02/06 was served August 21st, 2012 against J. Gabriel and he was charged;
AND WHEREAS Council considered all evidence at a Hearing held September 12th, 2012;
THEREFORE BE IT RESOLVED THAT Council of the Rural Municipality of Mountain amend the charge, penalty, and conditions as served, as follows: written warning.
CARRIED.
For 5 Against 0
8. General Business
8.0 Mafeking Fire Department: Reviewed Correspondence
8.1 Speed Limit Reduction: Councillor will follow up
8.2 RM Office Renovation: Reviewed
8.3 2012 Tax Sale: Res. No. 274/12
8.4 2012 RM Land Auction: Review
8.5 BR WTP, Lagoon, & Operator Certification: Review Lagoon irrigation operations/warranty; WTP pilot test/progress; Operator Certification requirements
8.6 Personnel Committee Meeting September 10th, 2012: Res. Nos. 275/276
8.7 Mafeking LUD Committee: Res. No. 277/12
8.8 Water Survey of Canada – Request to Relocate Hydrometric Station Birch River: Res. No. 278/12
8.9 MTS ROW Application: Res. No. 279/12
8.10 Burnside & Ferriss – Lot 1 Plan 1245 Birch River: Res. No. 280/12
8.11 Meeting Absence Request: Res. No. 281/12
8.12 MMAA District Meeting: Res. No. 282/12
8.13 G7 Meeting Attendance October 1, 2012: Res. No. 283/12
8.14 AMM Convention November 26-29, 2012: Reviewed
WHEREAS Section 372 of The Municipal Act allows a Municipality to set any terms or conditions for the sale of property sold for taxes, and may set a reserve bid in the amount of tax arrears and costs;
THEREFORE BE IT RESOLVED THAT Council of the Rural Municipality of Mountain set a reserve bid in the amount of tax arrears and costs for the 2012 Tax Sale on the properties listed in Schedule 'A' attached, and allow the remaining properties to be sold without a reserve bid.
AND FURTHER BE IT RESOLVED THAT the terms and conditions recommended by TAXervice be accepted as presented.
CARRIED.
For 5 Against 0
WHEREAS Section 152(3) of The Municipal Act authorized Council to close a meeting to the public to discuss certain matters;
AND WHEREAS Section 15.13 of By-Law #01/11, The Procedures By-Law of The Rural Municipality of Mountain, instructs a member to;
"…keep in confidence a matter that is discussed at a meeting closed to the public under subsection 152(3) of The Act until the matter is discussed at a council meeting conducted in public"
BE IT RESOLVED THAT Council of the Rural Municipality of Mountain meet as a committee to discuss personnel matters.
CARRIED.
For 4 Against 0
BE IT RESOLVED THAT the meeting of the committee of the whole be adjourned, and that the regular meeting of Council of the Rural Municipality of Mountain be re-opened to the public.
CARRIED.
For 4 Against 0
WHEREAS The Municipal Act states:
112(1) The committee of a local urban district is a committee of the council of the municipality in which the district is located and consists of
(a) a councillor of the municipality appointed by the council; and
(b) not more than three members elected by the voters of the local urban district.
112(3) If the councillors of the municipality are elected from wards, the council must appoint the councillor elected for the ward in which the local urban district … is located.
AND WHEREAS Council of the RM of Mountain called for Nominations for the office of Committee Member of the LUD of Mafeking, and no nominations were received;
BE IT RESOLVED THAT Council hereby reduce the number of elected Committee Members of the LUD of Mafeking to two from three;
AND THAT the LUD Committee of Mafeking shall henceforth consist of
(a) The councillor of Ward 6; and
(b) Two Committee Members elected by the voters of the local urban district.
CARRIED.
For 4 Against 0
BE IT RESOLVED THAT Council of the Rural Municipality of Mountain hereby approve the request of Water Survey of Canada to relocate a hydrometric station at Birch River on Road 151W as proposed in Schedule 'A' attached hereto.
CARRIED.
For 4 Against 0
BE IT RESOLVED THAT the Rural Municipality of Mountain hereby approve the Municipal Right of Way Application Plan #9093147 MTS dated August 28th, 2012;
AND THAT the Chief Administrative Officer is hereby authorized to sign on behalf of the Rural Municipality of Mountain.
CARRIED.
For 4 Against 0
BE IT RESOLVED THAT the Rural Municipality of Mountain hereby reschedule the January 23rd, 2013 Regular Meeting of Council to January 24th, 2013.
CARRIED.
For 4 Against 0
BE IT RESOLVED THAT Council of the RM of Mountain hereby grant the request of Councillor Guignion to be absent from the regular meetings of Council held September 12th, 26th, and October 10th, 2012.
CARRIED.
For 4 Against 0
BE IT RESOLVED THAT the Finance Officer be authorized to attend the Manitoba Municipal Administrators' Association District #7 Meeting on Monday, September 17th, 2012 in Grandview, MB;
AND THAT expenses be allowed for same.
CARRIED.
For 4 Against 0
BE IT RESOLVED THAT Council and CAO be authorized to attend the G7 Meeting on Monday, October 1st, 2012 at the RM of Swan River, MB;
AND THAT expenses be allowed for same.
CARRIED.
For 4 Against 0
9. Other Communications
9.1 Nicole Wainwright, EMO – June heavy rain event: program approved
9.2 RCMP Report Winnipegosis Detachment August 2012: Reviewed with Sgt. McCarville
10. Adjournment
BE IT RESOLVED THAT the meeting of Council of the Rural Municipality of Mountain be adjourned to meet again on September 26th, 2012.
The meeting adjourned at 3:00 p.m.
CARRIED.
For 4 Against 0