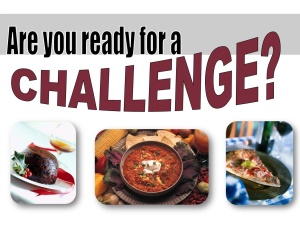 Submitted Story |
Organizers of The Parkland Food Challenge are looking for producers and entrepreneurs who want to promote their locally-made food products and want a chance to win product development awards valued at $1,000.00.

The Challenge, set to run Thursday October 11th, is aimed at promoting awareness and usage of the new Food Processing Centre located at the Veterans Community Hall.
Veterans Community Hall Board Member Myrna Scott says she and other board members are pleased with all the improvements that were done to upgrade the kitchen in the Veterans Community Hall to commercial kitchen status but notes "what we need to see now is our local food producers and food entrepreneurs coming to try the facility so they will want to use it to scale-up their production."
The competition is limited to only five food producers who will each present a food product to a panel of judges and have a chance at winning a $700.00 product development award. The event will be open to the public who will have an opportunity to vote for their favourite food product by purchasing voting cards for $5.00 entitling them to sample all five food products and cast a vote for their favourite. The food producer who receives the most votes from the public will win the Taster's Choice Award which is a product development award of $300.00. Each competitor is eligible to win both awards.
Organizers say the awards can be used for a variety of expenses related to the commercialization of the winning food product such as paying for rental hours at the Food Processing Centre, research and development at the Food Development Centre in Portage la Prairie, packaging and labelling, marketing expenses such as Farmers' Market membership and tradeshow registration fees, training, and eligible product ingredients.
"This event provides local food producers with an opportunity, not only to compete for product development awards, but also to sell their food products to everyone who comes to see the competition", says Veterans Community Hall Board Member Elva Iwanchuk.
The presentation to the Parkland Food Challenge judges panel will be followed by the marketing portion of the event in which the five competitors will have the opportunity to sell their products at a special Farmers' Market event taking place during the competition. "Between the product development awards and the chance to sample and sell their products to the public, we think this is a fantastic opportunity for some local food producers to get some really great exposure in the community", she adds.
Applications for the Parkland Food Challenge are due by Sept. 19, 2012. For more information or to get an application form, visit the Town of Swan River Office or online at foodprocessingcentre.ca