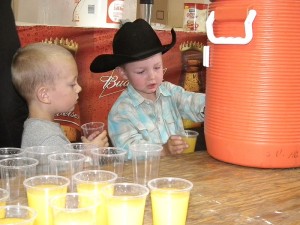 ValleyBiz Story |
Things got cooking at the McKay Night Barbeque on Thursday, July 29, picked up the next day at the
St. Andrews United Church Rodeo Lunch and continued on Saturday and Sunday with pancake breakfasts sponsored by Formo Motors and Parrish & Heimbecker.
Click any picture for a larger version.
Throughout the day there were also plenty of options with community food booths and midway fare available right on the the fair grounds.
The community gathered together to serve . . .
. . . and to fuel up for more Northwest Roundup excitement!