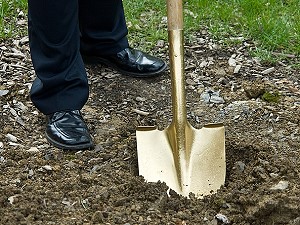 Province of Manitoba Media Release |
SWAN RIVER: First Nation and Métis families and seniors in Swan River can look forward to the construction of a new $5-million affordable seniors housing project, Premier Greg Selinger announced at a sod-turning event Sunday, July 15, 2012.
"More families and seniors will be able to stay in the Swan River area as a result of our investment," said Selinger. "The Manitoba government is committed to making affordable housing more available for all families across the province and this project ensures First Nation and Métis families in Swan River have access to quality, affordable housing."
"This is a great day for the Swan River Friendship Centre," said Elbert Chartrand, board chair, Swan River Friendship Centre Housing Corporation. "We are so pleased to be working closely with the Manitoba government to improve the quality of life for Aboriginal families and seniors living in and near our community."
The Swan River Friendship Centre Housing Corporation is a non-profit housing corporation that serves the needs of First Nation and Métis people. The 26-unit development will be located at 205 Second Ave. W. in Swan River. The site formerly housed Crestview Courts, an apartment building owned by Manitoba Housing that was destroyed by fire in 2010.
The proposed design incorporates mobility-enhanced features, and includes five one-bedroom units and 21 two-bedroom units. Total estimated cost for the project is $5.4 million. In 13 units, the rent charged will be related to income.
"This project demonstrates partnerships between governments and the community work," said Selinger. "The return of affordable housing to Swan River will have a major impact in enhancing the community."
Construction of the project is expected to begin in August. It is part of the government's HomeWorks! long-term housing strategy.
Under this strategy, Manitoba Housing continues to make significant investments in social and affordable housing. The province has promised the delivery of 1,500 affordable housing units across the province and has already committed to the development of more than 1,000 homes.
HOMEWorks! supports ALL Aboard, Manitoba's poverty-reduction strategy, by increasing the supply of quality, affordable housing for low-income Manitobans. More information about HOMEWorks! is available at www.gov.mb.ca/housing.