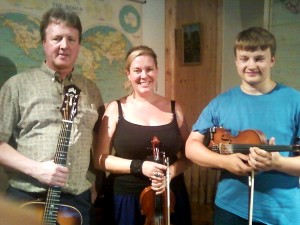 Submitted by:
Nancy Mclennan

Kim de LaForest keeps coming back to The Valley. Tuesday night (July 10, 2012) she entertained at a Valley House Concert in Minitonas.

In one of her song introductions she commented on the feeling she gets when she enters The Valley from Saskatchewan.
"The hills, the beauty," she said. "There's no place like it, and I'm drawn back."
de LaForest is touring with Nova Scotia guitarist, Greg Simm who also is surprised to find himself drawn to our little corner of the world.
"It's true," he said. "Back home in people don't really think about Manitoba, and if they do, they have no idea about it's natural beauty." Simm has been returning to The Valley as a fiddle instructor for the Frontier Fiddle Camps, but this week, Kim and Greg came just to play. And they have a fan base here.
Through the Fiddle Camps and the Swan Valley Fine Arts Festival, these talented musicians have met dozens of young musicians.
"We have been listening to the amazing growth of traditional fiddling for a few years now," said de LaForest, "and it has made me eager to come back to share some of my own tunes, our favorites, and just have a little fun."
Simm and de Laforest delivered two sets of songs and tunes including oldies, such as After You've Gone and Red River Valley (which was energetically sung as Swan River Valley by the audience), Celtic reels, Métis jigs and French Canadian laments. Greg sang a Neil Young song and Kim treated the audience to some Classical pieces as well.
Brad Slepika of Minitonas brought his fiddle.
"Here is one of the most inspiring young players that has come out of the Swan River Fine Arts Festival," said de LaForest as she called Bradley up to play a tune. Tight and powerfully, and without a hitch, he got the audience going. He also came back for the encore at the end of the evening Brad is going into Grade 12 at SVRSS this year and intends to move forward with his music after graduation.
"I don't know for sure," he modestly projected his own future. Then he added that there is a program in the southern USA that specializes in the style of music he plays.
Wow! WTG Brad. We will be following your progress.