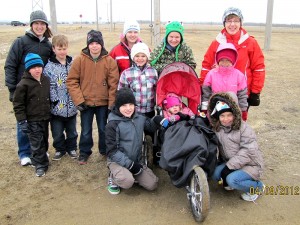 Submitted by:
Lana Edmunds
Nearly 90 people were involved with the Hillsview Hike on a windy Monday April 9, 2012.
Nearly 90 different stories unfolded as the day progressed.
Pictures submitted by Courtney Densen, Lloyd Gilchrist and Gale Wagner. Click any picture for a larger version.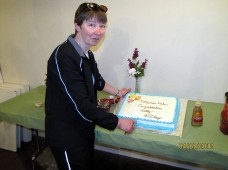 To Kathy Highmoor, the day signified a coming together of people to celebrate the walk of life and a committment to wellness.


To the United churches in Bowsman and Minitonas, the hike provided a chance to support one another by serving pancake breakfast, buns, fruit and chili, lovingly prepared and shared with all.
To the Swan Valley Funeral Services, the hike was an opportunity to support community by welcoming weary walkers at the half way point with warm shelter and warmer smiles.
To the Minitonas Sunday school children, Monday's walk meant a chance to lighten the final stretch into town for hikers by sharing their enthusiasm and joy.
To the many supporting people, the hike meant a chance to enable someone else's dream of walking to become a reality. They not only kept the walkers safe and happy with proper signage and essential facilites, they enabled walkers to hop a ride when needed.
To Spruce Products, the hike provided a opportunity to once again support the Valley by sharing the people mover.
To the many passersby who tooted or waved or offered hugs and handshakes, the walk confirmed their belief that strength is gained through sharing.
To some hikers, the goal was to complete the whole distance from Bowsman to Minitonas.
| | |
| --- | --- |
| Garry Kennedy and Lloyd Gilchrist at about the half-way point on their hike from Bowsman to Minitonas. | Carol Fenske and Max Zamzow hiking their way to Minitonas. |
To others, the goal was to walk whatever distance felt good, embracing the comraderie of fellow walkers and rejoicing in the unifying of a common direction.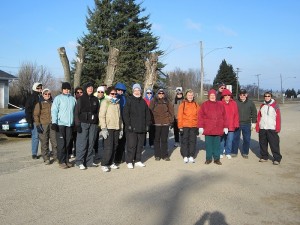 To some hikers, the slower pace meant seeing the world through different eyes, a chance to appreciate the small things. It was an opportunity to reflect on what roads might be ahead for the two year old in the group and to rejoice in the example of the 79 year old walker.
It was an experience to dig deep when the going got tough.
Ask any one involved with the Hillsview hike. Every one has a story!