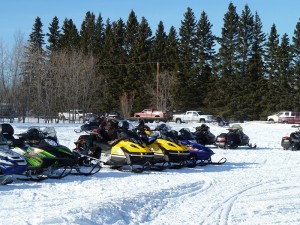 Submitted by:
Leona Sweetser |

The 33rd Annual Bellsite Poker Derby took place on Sunday, February 26. There were 179 driver hands sold and 297 ghostrider hands sold.

Click any picture for a larger version.
1st prize 20% of total Best Hand 4-8's to Claudia Sutherland $834.00
2nd prize 15% of total Best Hand 3-A's & 2-2's to Danny Jersak $625.50
3rd prize 5% of total Best Hand 3-10's & 2-Q's to Elmer McCorrister $208.50
Elmer McCorrister also had 42 ghostriders which won him another 10% of $417.00
Thanks to Spruce Products and Prairie Forest Inc. for the smokies, hot chocolate and cookies at the midway warm up spot at Steeprock Lake.
Bellsite Community had another great derby, as usual, with almost everyone going home with door prizes, and for sure we all went home over-full from having a great home cooked meal. It was a good way to end a day on the sled. Thanks to the Bellsite Community and all the cooks and helpers, we had a great day!