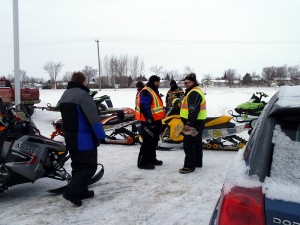 Submitted by:
Leona Sweetser |

The first annual Porcupine Bash, started out with a guided snowmobile ride, with approximately 20 people. There were more sledders that chose to ride on their own.

Click any picture for a larger view.
Fire and Ice, had about 60 people stop in for Chilli and a bun. The home-made chilli was excellent, and certainly hit the spot after an 80 mile ride thorough the Porcupine Mountains.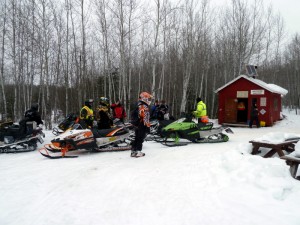 The dance started at 8 pm, with 175 people attending. We were pleased with our turn out, and everyone seemed to have a great time. The dance floor was busy and the rest of us that didn't dance had a great time listing to the band and visiting.

The winner of our 50/50 draw was Chet Hohne, he won $1950.00. I'm sure he will put the funds to good use!!
The North Mountain Riders have decided not to campaign for any additional funding and only go with the 50/50 draw and use this year as our learning event, and trial run for future years. Much to our surprise, we had three businesses send checks to us regardless, what a nice and greatly appreciated surprise it was. They were: Formo Motors , Cement Works Inc, and Bordian Contracting Inc. Thank you all so very much and thanks to all who have helped during the year and past years, we could not have made all the changes, and maintenance to our trails without our sponsors!!
This was an excellent start for the North Mountain Riders, and we are planning this as an annual event, coinciding with the Bellsite Derby, and moving it to the long week end in February. We have more elaborate plans for next year; this was a practice run to get us going as our club has not put on an event like this before. It was a great learning experience and we are set now with many additional plans for next year. So remember us for next year, and make plans to join us for the long week end in February!!