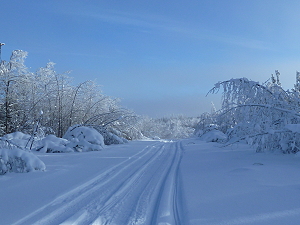 Submitted by:
Leona Sweetzer |
North Mountain Riders will be holding their 1st Annual
Porcupine Bash
February 25 & 26, 2012
Ride the best of the Porcupine Mountains in the Swan River Valley.

Saturday, February 25, 2012
Guided Rides
Leaving at 9am and 10am from the Westwood Inn Hotel parking lot
Trailside lunch provided by Fire & Ice – Arctic Cat Dealer
Dance
Swan Valley Museum
8pm – 1am
Music by "One Eyed Jimmy"
Tickets $10
Trail Side Lodging
New Country Motel: 734-3424
Skyline Motel: 734-3471
Super 8: 1-800-800-8000
Thunder Hill Motel: 734-4104
Timberland Inn: 734-5268
Westwood Inn: 734-4548
Sunday, February 26, 2012
Ride in the Bellsite Derby
You better not miss out on this one, lots of door prizes, a home cooked meal after your ride, and win some cash.
For details, phone Murray: 725-6579, Curtis: 734-8737, or Cam 734-2287
Notice to all members and invited guests of the North Mountain Riders Inc. Advance sale of tickets only.
MLCC#551/11
So … hop on those sleds and come on over for the best weekend of the winter.