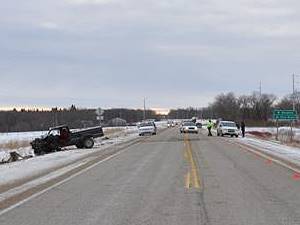 UPDATE: ValleyBiz has learned through local sources that the Swan River Fire Department was not dispatched to the scene and that members of the Pine River Fire Department provided assistance.
__________________

RCMP Media Release |
On January 12, 2012 just before 10:00 am the Parkland RCMP Detachment, along with the Winnipegosis Fire Department, Swan River EMS, and the Swan River Fire Department responded to a two vehicle collision on Highway 10, 1 km north of Pine River in the RM of Mountain, MB.
Initial investigation determined that a northbound 1992 Ford Ranger pickup truck crossed the center line and collided head on with a southbound semi truck.
The driver of the semi truck, a 51 year old male from Austin, MB, was not injured.
The driver of the Ford Ranger, a 50 year old male from Mafeking, Manitoba, sustained serious injuries. He was transported to hospital in Winnipeg by STARS Air Ambulance with serious, undetermined injuries.
Their names will not be released.
Two nurses and several other civilians stopped to provide first aid to the injured driver.
Members of the RCMP Forensic Collision Reconstruction Unit and the RCMP Criminal Crash Investigation Team from Dauphin are assisting with the investigation.
Highway #10 at Pine River was reduced to one lane of traffic for 2 hours during the investigation, but was re-opened at 12:00 p.m.
Alcohol, seat belt use, and excessive speed are not considered factors in the collision at this time.
Road conditions were reported to be good at the time of the collision. The highway was clear and dry.