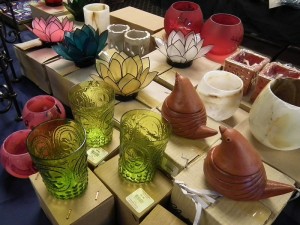 ValleyBiz Story |
Valley resident, Karen Peters wanted to make a difference at Christmas time and that is why she decided to bring Ten Thousand Villages to the Valley by hosting a sale back in 1998.

Ten Thousand Villages is a nonprofit program of Mennonite Central Committee that promotes fair trade for Third World artisans by purchasing their handicrafts and selling them online and through a network of nonprofit stores and festival sales across North America.
Originally held in Karen's home, the sales have taken place in the Spirit Woman Cafe, at Swan Health Foods and, for the past 6 years, at the Super 8 Motel.
This year's sale is again being held in the Super 8 Motel meeting room:
10am – 8pm Thursday, November 24
10am – 8pm Friday, November 25
10am – 6pm Saturday, November 26
It has been said that walking in to a Ten Thousand Villages sale is like entering an international marketplace, featuring hadcrafted jewellery and accessories, natural home decor, food and skin care products.
Here is a preview of some of the items you will find at this year's sale.
Click any picture for a larger version.
Ten Thousand Villages works with more than 130 different artisan groups in over 35 countries. By partnering with artisan groups who pay fair wages and demonstrate concern for their members, the program is able to help men and women around the world earn an honest living, provide a home, food and education for their children, and to be gainfully employed in a job that brings dignity and joy.