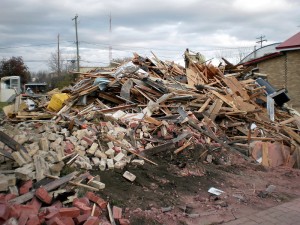 Written by: Lydia McKinnon
Pictures by: Pat Ellingson
On Tuesday October 25, 2011 the skyline of the village of Benito drastically changed as two very prominent buildings were demolished.

Click any of the pictures for a larger version.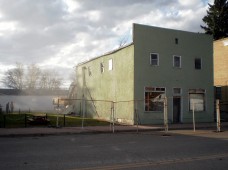 The big green building on the west side of Main Street had been a big part in the lives of several generations. It had housed the Public Library and Rose's Ladies Wear Shop as well as Doctors offices during the years. The upstairs had several apartments which became home to many over the years.
Time moved on and it became vacant. After many years it began to deteriorate and became the "ward" of the Village and recently had become unsafe and was slated for demolition.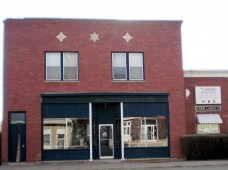 The Sam Tax building as it was commonly referred to, on the east side of Main Street was the most glamorous store front in town and many will remember the General Store of the 1950's and 1960"s. It served the community since the 1920's and to date was privately owned, even though it was vacant and seriously deteriorating over the course of the past few years.
During this past summer, the walls began to crumble and steps had to be taken to assess the damage and structural integrity of the building. It was recently declared unsafe and after a time-consuming legal process, arrangements were made to have it demolished.
In order to save the taxpayer's money, the decision was made to have both buildings demolished at the same time. It is a feeling of great sadness to witness the slow death of these buildings that were a big part of many lives in the community.