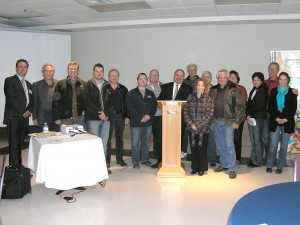 ValleyBiz Story | A group of 14 individuals from the Swan Valley travelled to Dauphin on Wednesday evening to attend a presentation by Dr. David Ivan, on economic development strategies for small communities competing in the new economy.
Left to right: Martijn Van Luijin (Community Futures Parkland), Andy Maxwell, Ken Carstairs, Jason Sakal, Kevin Neely, Lance Jacobson, Dale Wilson, Dr. David Ivan ( Presenter), Gary McFadyen, Shauna Klekta, Naomi Neufeld, Stan Anderson, Heather Provencher, Laurie Maidy, Wayne Grier, Angela Henkelman
Picture submitted by: Wayne Grier, click the picture for a larger version.
The Swan Valley Action Committee made the arrangements and chartered a bus to facilitate the group's attendance at the presentation which was sponsored by the Parkland Regional Development Corporation in partnership with Community Futures Parkland and Asessippi Parkland Economic Development Corporation.
Drawing on his past research for Michigan State University Extension on Small Town Success Strategies and Can Small Towns Be Cool, Dr. Ivan presented key steps to community success centered on innovation and entrepreneurship, community assets, citizen engagement, authentic place making and strategic regional alliances. Success stories from other small towns were incorporated throughout the presentaion providing practical examples for consideration. Multimedia illustrations kept the presentation engaging and interesting.
The group from the Valley were all impressed by Dr. Ivan and inspired by the ideas and concepts presented. With a renewed sense of enthusiasm the group boarded the bus, arriving back in the Valley around 11:30 pm.