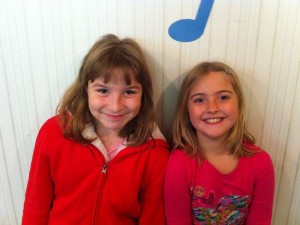 Submitted by: Kelli Riehl | Thank-you to everybody who attended the Girl Guide and Pathfinder, Ottawa 2012, fundraising dinner on Oct. 21! We hope you enjoyed the spaghetti, meatballs and home made bread as much as we enjoyed serving you!

Here is a picture of two of the youngest girl guides going to Ottawa.
Click the picture for a larger view.
While in Ottawa, the young ladies and their chaperones will see: the changing of the guard at Parliament Hill; have a tour of the Parliament building; see the Parliament Evening Sound and Light Show; Supreme Court of Canada; have a back stage tour of the National Arts Centre; visit the Rideau Centre; see the University of Ottawa; watch the RCMP Musical Ride rehearsal and see their stables; tour the National Gallery of Canada; tour the Canadian Museum of Contemporary Photography; the Notre Dame Cathedral; the Byward Market; Rideau Hall; the Canadian Museum of Civilization; the Royal Canadian Mint; and Adventure Lafleche!