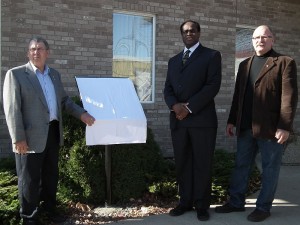 ValleyBiz Story | On Friday, October 21, 2011 a commemorative plaque was unveiled at the Northwest Regional Library in honour of William "Billy" S. A. Beal in recognition of his significant contribution to the Valley during its formative years.

Mayor McKenzie, Ernesto Griffith, Reeve Henkelman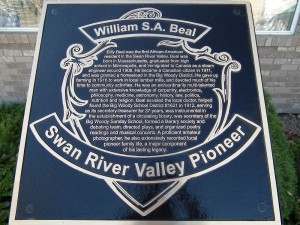 Click any of the pictures for a larger version.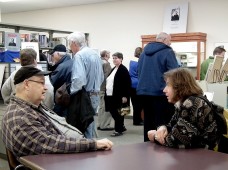 An exhibit was set up inside the library featuring a display of many photographs taken by Billy Beal along with other biographical material. Many in attendance shared memories of Billy from over 60 years ago while others learned more about the man whose name they knew only from an ice fishing derby.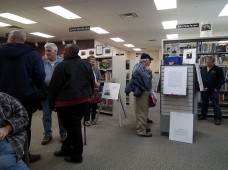 Beal came to Canada as steam engineer but was also an electrician, a furniture maker and a photographer. An avid reader, he was known for his knowledge and even built his own telescope. Beal served as the treasurer of the Board of School Trustees for 37 years and helped set up the area's first circulating library.

Billy actor, writer, producer and director, Ernesto Griffith, attended several showings of the film during his visit. The Swan River film debut began with two shows at the SVRSS on Thurdsay, during which both boys and girls were moved to tears. There were also two public showings which took place on Friday and Saturday evening, after which Griffith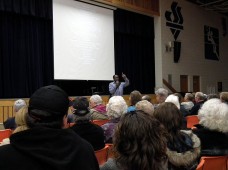 graciously answered any questions posed by the crowd.
In addition to a Manitoba Human Rights Commitment Award and Best Narrative Feature Award at the Winnipeg Real to Reel Film Festival, Billy recently won a Redemptive Storytelling Award at the Redemptive Film Festival in Virginia. Next stop is the Hollywood Black Film Festival.
Thanks to Ernesto Griffith, Swan River has gained some fame, reconnected with a piece of our history and obtained a better understanding of the man after whom the Lion's Club chose to name their annual ice fishing derby. While even they did not know the full extent of Billy Beal's contribution to the Valley at the time they chose the name, the consensus at this point seems to be that they made a really good choice.
What's next in the journey of rediscovering Billy Beal and recognizing his accomplishments? Ernesto Griffith is working on an application for a stamp with Billy's photo and plans to return to Swan River this spring to shoot a documentary on Billy Beal.
Click here to see our original story with a link to the movie trailer.
If you enjoyed reading this article,
Tell a friend today
About ValleyBiz.ca