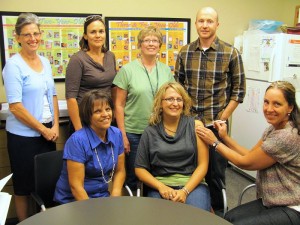 PRHA Media Release |
It's that time of the year again. The Parkland Regional Health Authority (PRHA) begins its annual seasonal flu shot campaign which will run over the course of the next few weeks.

Five large, all-day flu shot clinics will once again be held in each of the Region's four districts (East, West, North, Central). Mass immunization clinics this year will be held in Roblin (October 19th), Swan River (October 20th), Ste. Rose (October 20th), Dauphin (October 24th) and Grandview (October 26th).
Smaller clinics will be held in several other Parkland communities from Tuesday, October 18th to November 15th. The North District Schedule is as follows:
Swan River
Thursday, October 20, 2011
10:00 AM – 7:00 PM
MASS IMMUNIZATION CLINIC
Veterans Community Hall,
119 – 6th Ave. N. Swan River
Minitonas
Monday, October 24, 2011
1:00 PM – 3:30 PM
Minitonas Town Hall
Camperville
Tuesday, October 25, 2011
1:00 PM – 2:30 PM
Camperville Primary Health Care Centre
Sapotaweyak
Tuesday, October 25, 2011
11:00 AM – 2:00 PM
(for Pelican Rapids as well)
Sapotaweyak Health Centre
Benito
Tuesday, October 25, 2011
1:00 PM – 4:00 PM
Benito Primary Health Care Centre
Duck Bay
Wednesday, October 26, 2011
1:00 PM – 2:30 PM
Duck Bay Health Centre
Barrows
Wednesday, October 26, 2011
1:00 PM – 2:00 PM
Barrows Administration Building
Mafeking
Friday, October 28, 2011
10:00 AM – 11:30 AM
Mafeking Legion Hall
Birch River
Friday, October 28, 2011
1:30 PM – 3:00 PM
Birch River School
Bowsman
Monday, October 31, 2011
10:00 AM – 12:30 PM
Bowsman Legion Hall
Benito
Tuesday, November 1, 2011
1:00 PM – 4:00 PM
Benito Primary Health Care Centre
Wuskwi Sipihk
Wednesday, November 2, 2011
1:00 PM – 3:00 PM
Wuskwi Siphik Health Office
Residents are advised to check their local listings, listen to local radio, log on to the PRHA website, or call toll-free 1-877-279-7855 for the latest flu shot clinic schedule.
Once again this year, the seasonal flu shot will be available to all Manitobans at no charge. It will offer protection against three seasonal flu strains. However, immunization is especially important for those at increased risk of serious illness from the flu, their caregivers and close contacts. This includes:
* Seniors 65 years of age and over;
* Residents of personal care homes and long term care facilities;
* Children 6 months to 4 years of age;
* Those with chronic illness such as:
-long-term aspirin therapy.
-kidney, heart or lung conditions.
-an immune system weakened by disease or medical treatment.
-a condition that makes it difficult to breathe.
-other chronic medical conditions (eg. diabetes, mental disabilities.)
* Pregnant women;
* Health care workers and first responders;
* Individuals of Aboriginal ancestry; and
* People who are severely overweight or obese
The PRHA reminds you that if you are 65 years of age or older, you should also get a pneumonia shot. If you miss your chance to get the flu shot at one of the local immunization clinics, contact your health care provider or local public health office.