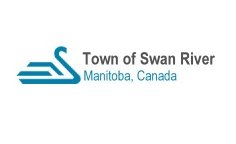 The Council of the Town of Swan River met on Tuesday, September 20th, 2011 at 7:30 p.m. in the Town Council Chambers with Mayor McKenzie presiding and Councillors Bobick, Friesen, Jacobson, Delaurier and Sakal present.
Variation Hearing:
Variation Hearing was called to order by Mayor McKenzie who advised that the purpose of the hearing was to hear representation for or against the following application:
Application by Jake L. Reimer Enterprises Ltd. to vary the minimum site width requirement from 100' to 55' to allow bare-land condominiums on Lots 3 & 4, Block 1, Plan 2315 DLTO located at 410–416 Currie Road in Swan River, Manitoba.
There being no persons present who wished to speak at the hearing The Variation Hearing was adjourned.
Minutes:
1. RESOLVED that the Agenda for the September 20th, 2011 meeting of Council be received as amended.
Carried:
2. RESOLVED that the Variation Application No. 5/2011 by Jake L. Reimer Enterprises Ltd. to vary the minimum site area requirement from 100' to 55' to allow bare-land condominiums on Lot 3 & 4, Block 1, Plan 2315 be hereby approved.
Carried:
3. RESOLVED that Mayor, Council, CAO and Assistant CAO be authorized to attend the G7 meeting being held in Benito, MB on October 3rd, 2011.
Carried:
4. RESOLVED that the Financial Statement for the month ended August 31st, 2011 be adopted as received.
Carried:
5. RESOLVED that Thursday, October 20th, 2011 be proclaimed "Credit Union Day" in the Town of Swan River.
Carried:
6. RESOLVED that the Superintendent of Works and Building Inspection Reports be received.
Carried:
7. RESOLVED that the following Building Permit Applications be received:
52/11 – 312 6th Ave N – Deck
63/11 – 1305 3rd St S – Deck
64/11 – 1466 3rd St N – Deck
65/11 – 509 Duncan Cres – Deck Extension
66/11 – 222 8th Ave N – House & Attached Garage
67/11 – 437 11th Ave N – Fence
68/11 – 113 4th Ave N – West Wall Upgrade
69/11 – 123 7th Ave N – Detached Garage
70/11 – 9 Russell Dr – Fence
71/11 – 201 4th Ave N – Addition
72/11 – 304 Heyes St – Fence
Carried:
8. RESOLVED that the month of October, 2011 be proclaimed "Breast Cancer Awareness Month" in the Town of Swan River.
Carried:
9. RESOLVED that the accounts as follows be hereby approved for payment:
(1) General Accounts from Cheque No. 10290 to No. 10376 for a total of $344,498.81.
(2) Payroll Account from Cheque No. 2698 to No. 2709 for a total of $81,364.29.
Carried:
10. RESOLVED that the Handi Van Report for August 2011 be received.
Carried:
11. RESOLVED that, pursuant to Section 152(3) of The Municipal Act, Council go into Committee and close the meeting to the public.
Carried:
12. RESOLVED that, pursuant to Section 152(4) of The Municipal Act, this meeting be re-opened to the public.
Carried:
13. RESOLVED that this Council Meeting now adjourn.
Carried: