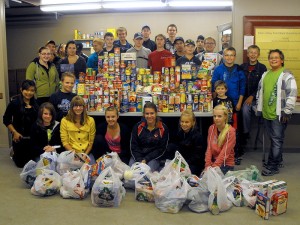 Submitted by: Pastor Rob Ter Horst |
A BIG thank you to the residents of Swan River who contributed so generously to the Swan Valley Food Bank (SVFB). The goal was to exceed our last food drive in April which collected 445 lbs and that goal was certainly met.
Click picture for a larger version.
The total amount of food collected during this food drive was 944.7 lbs! It was unbelievable to collect that much food in less than 2 hours. Unfortunately, we ran out of time so we might have missed some residents who were expecting us.
If there is anyone who prepared donations for the Food Bank Food Drive and the youth missed your house, please call Temple Baptist Church at 734-4200 and ask for Pastor Rob and arrangements can be made to pick up your donation. We don't want to discourage anyone who was planning to donate. If you are able to, donations can be dropped off at Temple Baptist Church (913-1st Street South).
Bruce & Ursula Taylor from the SVFB would like to thank everyone for participating in this food drive. Your generosity certainly makes an impact on our neighbors who depend on the Food Bank in times of need.