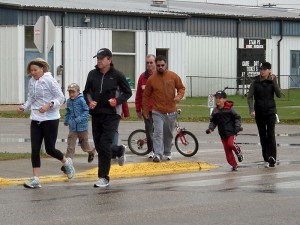 ValleyBiz Story |
Rain didn't stop Terry Fox and it didn't stop 50 people from showing up to run, walk and bike in his memory, continuing his Marathon of Hope to raise funds and awareness for the fight against cancer.

Click any of the pictures for a larger version.
Moments before the run began the rain stopped and the sun peaked through the clouds, shining down on the participants.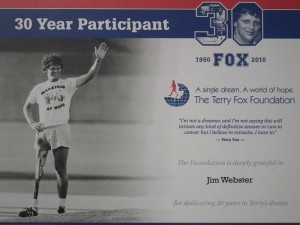 Jim Webster, who has organized the Terry Fox Run in Swan River for the past 30 years, received a plaque from the Terry Fox Foundation in recognition of his dedication.

Webster announced that this will be his last year coordinating the run and that Twyla Machan, Editor of the Swan Valley Star and Times, will take on the responsibility. After indicating that he would help Machan out next year and show her the ropes he mentioned that help from additional volunteers is always welcome.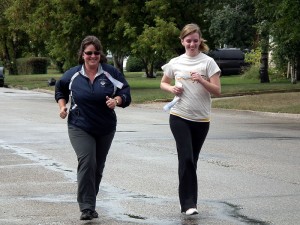 Twyla Machan (right) has participated in the run for the last 4 years and shared that, while she has not personally had cancer touch her life, she is committed to taking on the coordination of this important event.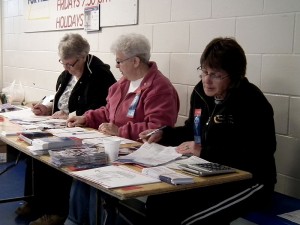 Pat Maksymchuk, Agnes Marshall and Lorna Stankewich managed the registration desk. Given the weather it did not surprise them that participant numbers were down from last year. Over $8,000 has been raised to date and more is still expected to be received.