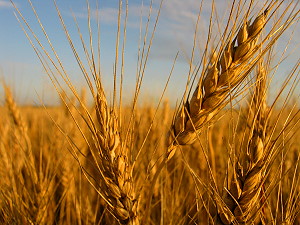 Crop Report Prepared by: Manitoba Agriculture, Food and Rural Initiatives GO Teams & Crops Knowledge Centre September 12, 2011 |
Northwest Region
Harvest operations continued without interruption across the Northwest Region. Weather conditions were hot and dry, with moderate to low wind conditions and lower humidity. Some light showers occurred over Sunday night.
Spring wheat is 65 to 90% harvested, with Swan River area the most advanced. Quality is average to above average with very low incidence of disease and weathering. Yields across the region are variable, with higher average yields through the Roblin-Swan River areas.
Approximately 15 to 25% of the canola crop has been combined with about 65 to 90% swathed. Variable yields are reported ranging from 25 to 45 bushels/acre with good overall quality.
Greenfeed, flax, soybeans, buckwheat and hemp acres are moving through varying stages of maturity under fair soil moisture conditions.
Post-harvest field work is also underway as time and available fields allow. Straw is being baled and removed. Fall tillage is also being done. Winter wheat planting around the Dauphin area continues.
Silage operations in the southern part of the region are just beginning.