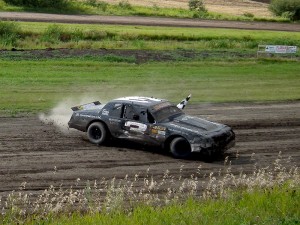 It was a great day of racing on Saturday at the Swan Valley Speedway. The forecasted rain and thunderstorms stayed away in favor of mostly sunny skies.
Drivers raced for points and the day was topped of with the ever popular mud bog.
Click any of the pictures for a larger version.

Davion had a chance to see what it is like behind the wheel of one of the stock cars.



Marty Thomas lent his weight to the quad pull.


Parkland EMS was on hand – just in case things got out of hand.
$200 Clayton Dutchak
$100 Derek Young
$ 70 Michelle Maga
$ 40 Dylan Chernyk
$ 30 Steven Mayquet


Modified Truck Mud Bog Winners
$200 Andy Maga
$120 Devlin Vandenpoole
$ 70 Colin Eisner
$ 30 Cliff Robertson
Stock Truck Mud Bog Winners
$200 Tony Cryderman
$120 Morgan Bighetty
$ 70 Trent Henderson
$ 30 Derek Young

The winner of the Foot Race,
Ethan Campbell (pictured right)
took home $50.