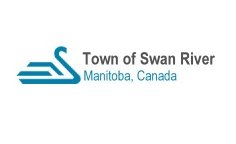 The Council of the Town of Swan River met on Tuesday, August 11th, 2011 at 7:30 p.m. for a special meeting in the Town Council Chambers with Mayor McKenzie presiding and Councillors Bobick, Friesen, Jacobson, Delaurier and Sakal present. Councillor Scales advised that he was unable to attend but said the meeting could proceed in his absence.
Variation Hearing:
Variation Hearing was called to order by Mayor McKenzie who advised that the purpose of the hearing was to hear representation for or against the following application:
Application by Kal Tire-993271 Alberta Ltd./Dean Caruk to vary the corner side yard requirement from 20' to 0' to allow the addition of vehicle bays on the south side of existing building on Lot 1-4 Block 9 Plan 286 DLTO located at 201 4th Ave. N. in Swan River, MB.
Eric Arp, Town of Swan River Building Inspector, was present to answer any questions council had.
There being no persons present who wished to speak at the hearing the Variation Hearing was adjourned.
Minutes:
1. RESOLVED that the Agenda for the August 11th, 2011 special meeting of Council be received.
Carried:
2. RESOLVED that the minutes of the July 19th, 2011 regular meeting of Council be adopted as received.
Carried:
3. RESOLVED that the minutes of the July 20th, 2011 special meeting of Council be adopted as received.
Carried:
4. RESOLVED that the Variation Application No. 4/2011 by Kal Tire-993271 Alberta Ltd./Dean Caruk to vary the corner side yard requirement from 20' to 0' to allow the addition of vehicle bays on the south side of existing building at Lot 1-4, Block 9, Plan 286 DLTO, 201 4th Ave N., Swan River, MB be hereby approved conditional that the SW entrance on to 1st St. N. be closed.
Carried:
5. Resolved that Brendan Fedorchuk be hired for the Recreation Maintenance II position with employment to commence on August 17th, 2011.
Carried:
6. RESOLVED that this Council Meeting now adjourn.
Carried: