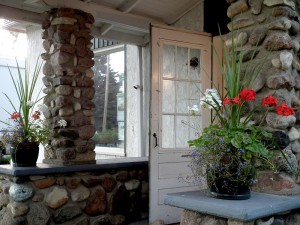 ValleyBiz Story | Harley House held an open house on Wednesday, August 10 to showcase restoration efforts made to date and to raise awareness about the project. Volunteers were honored for the many hours of hard work spent turning back the years on portions of the main floor.
Click any of the pictures for a larger version.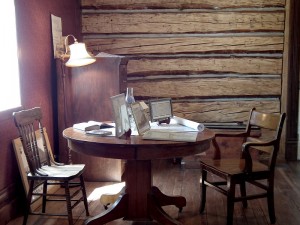 During the first phase of the restoration the plaster was removed from one interior wall to expose the original logs used in the Red River Style construction.
Many layers of flooring were also removed to reach the wood flooring.

"Hugh Harley bought the lot where Harley House presently stands. Construction started immediately, with W. J. Glillespie hewing the logs for the Red River-style house that was built on the banks of the Swan River facing 5th Avenue. The original logs are still present and in excellent condition over 100 years later, a tribute to the skill of the carpenter, Henry Tibble. The Harley House is one of the oldest surviving residences in Swan River, and one of a handful of the Red River-style buildings remaining in Manitoba."
Source: Harley House Literature
The historical atmosphere is enhanced with many donated items.
Future restorations move outside where there are plans to reinstate the original veranda that wrapped around the house. Removing the stucco to expose the original exterior logs is also on the restoration road map.
Harley House Hours:
Wednesday 10:00 am to 4:00 pm
Friday 10:00 am to 4:00 pm
Saturday 1:00 pm to 4:00 pm
Historical Walking Tours highlighting approximately 30 other historic houses in the area are also available through Harley House.
If you enjoyed this story,
Tell a friend today,
About ValleyBiz.ca