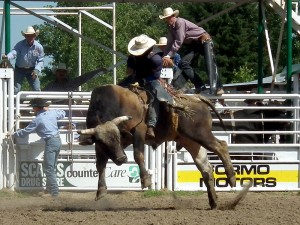 ValleyBiz Story | The Grandstand was the place to be this weekend with 4 days of racing, roping, bucking, heavy horse pulling action.
From fast and furious rodeo events to adrenaline pumping chariot and chuckwagon races, there was never a dull moment.
The grandstand was packed with clapping, cheering, whistling fans showing their appreciation for all of the rodeo atheltes.


Click any of the pictures in our gallery to see a larger version.
Specialty Act – Duane Reichert with his horse, Little Richie
Click here to see all our articles on the Swan River Northwest Roundup and Exhibition including pictures from the parade, exhibits and more.
ValleyBiz.ca
Tell a friend today!