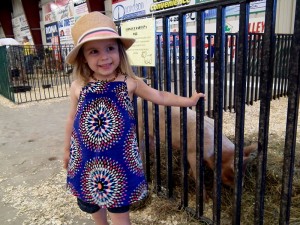 ValleyBiz Story | The Down on the Farm Exhibit is always a hit with the kids. Lilianna poses with a little pig, one of the many different animals on display for the children learn about and meet. There were also a lot of hands on displays to keep all the children busy.
Mason tries his hand a milking while Kayden uses the sandbox excavator and Dominic gets some tips on roping. Click any of the pictures for a larger version.
Canning and Baking Contests are one of the oldest country fair traditions.
Entries by artists of all ages were on display.
The horticulture exhibits included the products of those with green thumbs.
Click here to see all our articles on the Swan River Northwest Roundup and Exhibition including pictures from the parade, rodeo grandstand and more.
ValleyBiz.ca
Tell a friend today!