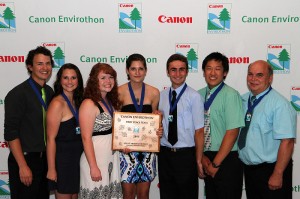 ValleyBiz Story | The Swan Valley Regional Secondary School won first place in the 2011 Canon Envirothon.
The competition took place at Mount Allison University in Sackville, New Brunswick from July 24 to July 29 where the SVRSS Team competed against 54 other teams from across Canada and the United States. The achievement is event more significant as this is the first time in the event's 24 year history that a Canadian Team has placed first. The SVRSS Envirothon team has been awarded a total of $25,000 in scholarships.
The Canon Envirothon is an annual competition where high school students, who have won their provincial or state competition, compete by demonstrating their knowledge of environmental science and natural resource management. The teams, each consisting of 5 students, are tested in the areas of Aquatics, Forestry, Soils, Wildlife, and a current environmental issue. This year's environmental issue was Estuaries.