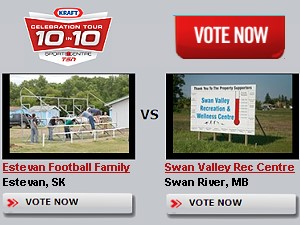 ValleyBiz Story | Today is the day we face off against Estevan in the Kraft Celebration Tour matchup.
Help the Swan River Valley win $25,000 for the Swan Valley Recreation and Wellness Centre and the opportunity to host a live airing of TSN's Sportscentre.
Vote Now! Vote Often!
Vote online a www.kraftcelebrationtour.ca
Voting starts: Tuesday, July 19 at 11:00 am
Voting ends: Wednesday, July 20 at 10:59 am
Swan Valley Businesses have been rallying to raise awareness across the Valley and have been issued a challenge to donate 15 minutes per hour for voting by their staff. Voting stations have been set up at schools and local businesses to ensure everyone has a chance to vote.