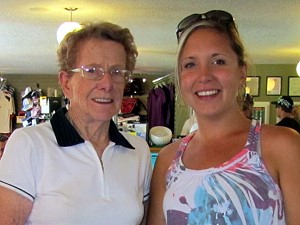 Submitted by:
Carolle Cowan,
Tournament Chairperson |

54 Ladies Enjoy Swan River's New 18 Hole Course at the Ladies Open Tournament, July 17, 2011.

Ladies from the Pas, Selkirk, Dauphin, Roblin, Madge Lake, Crystal Lake, Canora and Foam Lake joined local golfers under a rather "warm" sun, on a well-groomed course.
A hard working prize committee (Ida Theodore and Delores Chaykoski) presented flight prizes, door prizes, resulting in very few ladies going home without a momento of a great golf day. Registration began at 9:00 a.m., complimentary coffee and muffins helped start the day.
The first hole of the back 9, Hole #10, was decked out with flowers, welcoming the ladies, and prizes were awarded for such extras as: longest putt, shortest putt, bush ball, straightest drive, ball in #9 water hazard, ball in circle on #18, and many more. The choice prize, Las Vegas trip, was won by Marian Lumax. Early bird draw was won by Lorna Spicer.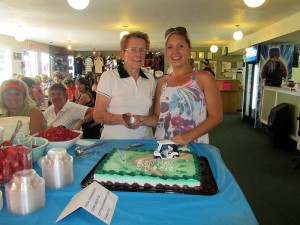 A very tasty supper was provided by Kevin Greig and staff; dessert was a decorated cake to mark the special occasion, first cut made by most experienced golfer Marian Lumax, and least experienced golfer Shayla Nykolaishen.

Click the picture for a larger version.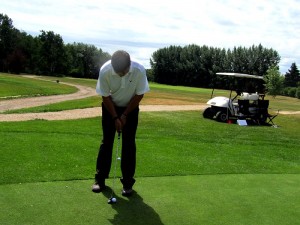 The putting contest was won by Gayle Kowalewich (Roblin). Thank you to Brian Cotton for assisting the local committee as well as providing the strawberries for delicious dessert!

Brian Cotton tests the putting green in preparation for the putting contest.
Click the picture for a larger version.

The Swan River Golf & Country Club is capably directed by Pro Manager Clint Wier. Grounds Superintendent Mike Smith prepares excellent playing surfaces and surroundings, and the staff of each is second-to-none!
Appreciation must be expressed to sponsors: Gold Pantry & Privy Niche; Silver Scales Drug Store, Hair Mechanics, Swan Valley Credit Union and Terry's Greenhouse. 28 Donors are listed as well. Thank you to all, making this tournament such a success.
Flight Winners are as follows: Championship: M. Zamzow (78);
First Flight: M. Gogal (96); Second Flight: M. Stinka (101);
Third Flight: L. Fraser (106); Fourth Flight: S. Thompson (110).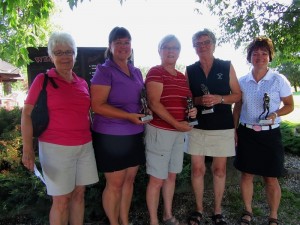 Shirley Thompson, Lise Fraser, Maxine Stinka, Marg Gogal, Marni Zamzow.
Click the picture for a larger version.
Everyone went home leaving behind very positive comments, most will be back next year!
Swan River, you can be proud of an excellent 18 hole course in our community.