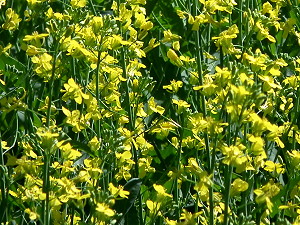 Crop Report Prepared by: Manitoba Agriculture, Food and Rural Initiatives GO Teams & Crops Knowledge Centre July 11, 2011 |
Northwest Region
Favourable weather conditions with seasonal temperatures continue to promote good crop development across the Northwest Region.
Crop development is more advanced through the Swan River and Roblin areas. The majority of wheat is into flag leaf stage and 20% is heading. The majority of canola is at 80% bloom. Crops, through the remainder of the region east of Grandview, are less advanced with widely variable staging. Canola staging ranges from seedling to 20% bloom, wheat is at 55% flag leaf stage. Fields have dried and the crops across the region could benefit from some rain.
Herbicide application is reaching completion with many fungicide treatments applied as tank mix. In-crop weed control has been good. In the eastern area, producers are making fungicide application decisions on a field by field basis relative to yield potentials. Unseeded acres are weedy and in many cases are left to aid in drying the land.
Bertha armyworm trap counts are increasing slowly; however, a late season increase of Diamondback moth trap counts has occurred.
Swan River area reports cereal leaf beetle larvae in a few wheat fields.
Haying operations are general with favourable weather and improved forage development allowing for dry hay. Yields are reported to be average or better. The higher, drying pasture lands, improved and native forage areas are in good condition. The flood-impacted forage and pasture lands production potentials are unchanged.