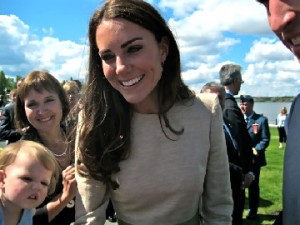 ValleyBiz Story, Pictures Submitted by Brenna Minish-Kichuk |
Brenna Minish-Kichuk, along with several of her relatives were in Yellowknife last week for a special re-opening of the Lorraine Minish-Cooper Garden of Hope.
The ceremony was made even more memorable by the attendance of the Duke and Duchess of Cambridge who unveiled a plaque and planted a tree.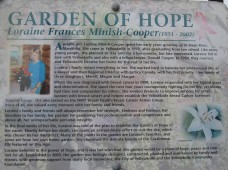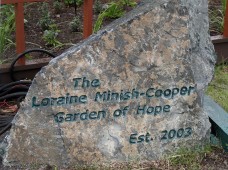 Click the picture to read the plaque details.
The Garden of Hope was opened in 2003 in memory of Brenna's aunt who died of breast cancer nine years ago. Lorraine Minish-Cooper, who was born and raised in the Swan River Valley, was a prominent Yellowknife lawyer and avid gardener. This year the garden was expanded and a re-opening ceremony was held on July 5th.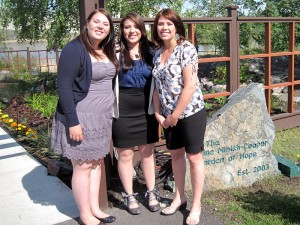 During an unscheduled tour of the garden, Prince William and Kate chatted privately with Lorraine's three daughters. Various reports have stated there was a real connection between Prince William and the girls as they discussed losing their mothers at a young age.
Lorraine's daughters, Merrill, Megan and Margot.


After the tour, the Royals came over and shook hands with Brenna and her family along with many other people in the crowd.
"They shook hands with everyone," she said, "They were very down to earth and friendly and really seemed interested in what was going on. I did not expect them to be that approachable."

Edith Minish shakes Prince William's hand.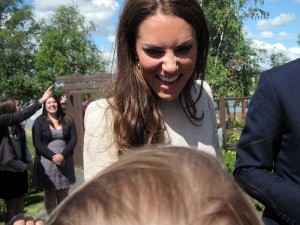 Kate appears to be really enjoying herself as she admires Brenna's daughter, Hallie.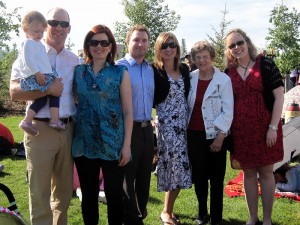 Pictured here: Hallie, Neil & Brenna Kichuk, Eric & Brittney Terleski and Edith Minish from the Swan River Valley, along with Brenna's sister Deanne Sprott who now lives in Minto, Manitoba all made the trip to Yellowknife last week.
Click any of the pictures for a larger version.
The thing that really stood out for Brenna was the fact that, while not part of the official venue, the royal couple asked for a tour of the garden. "They had said no to attending many other venues. They wanted to attend events with young people who were ordinary, everyday people."